School Board Member Says His 'Life Would Be Complete' If Rep. Rashida Tlaib Died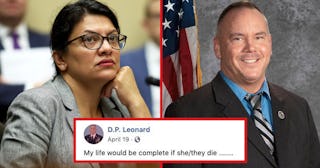 Win McNamee/Getty, Facebook and Toms River Regional Schools
Leonard posted three racist posts about two Congresswomen, Omar and Tlaib
A New Jersey school board member is being asked to resign over racist comments he made on several occasions on social media earlier this year, specifically targeting Reps. Ilhan Omar and Rashida Tlaib, both of whom are Muslim.
Daniel Leonard, a 42-year-old member of the Toms River Board of Education in New Jersey, posted an article to Facebook about Tlaib's (D-Mich.) support of hunger strikes to protest Immigration and Customs Enforcement (ICE). "My life would be complete if she/they die," he wrote in a now-deleted post. Unfortunately, this was one of many posts Leonard made about the Congresswomen.
Leonard, an Army veteran and vocal supporter of Trump, also posted a video to Facebook of Omar (D-Minn.), with the caption, "Terrorist . . . 100%." He also published a meme about "Sharia Barbie," next to a picture of a barbie dressed in a hijab with a black eye. "Comes with jihab [sic], bruises, & Quran," he wrote. "Stoning accessories available for additional purchase."
Though the posts were written back in April, his words have gained obvious outrage after someone reported them to the New Jersey chapter of the Council on American-Islamic Relations (CAIR-NJ), who has called on Leonard to resign.
The Toms River Regional Board of Education has announced that Leonard could face a potential ethics investigation over his posts, as officials including New Jersey Gov. Phil Murphy and Lt. Gov. Sheila Oliver have also asked for his resignation. An attorney for the school board said his comments "are totally inappropriate, not condoned by the Board of Education, and do not reflect the board's attitude or opinions," HuffPost reported.
Community members showed up to the most recent board meeting expressing their feelings of outrage over his public comments since he is a board member, also asking for his resignation. As members of the public talked about their feelings on the matter, Leonard was "smirking" and "being rather belligerent," CAIR-NJ Executive Director James Sues said.
Thus far, Leonard has refused to back down from his comments and refusing to resign from his position, writing on Facebook, "My point is that if a US Congresswoman wants to starve herself to death during an Anti-Trump publicity seeking Faux Hunger Strike while protesting a Federal Agency Of The United States – GOOD RIDDANCE! I will not give into fear or intimidation by any one person or organization!" He has been stripped of his appointment to the board's safety, security and transportation committee.
The backlash comes less than two weeks after Trump issued his own racist statements on social media, telling four minority congresswomen (including Omar and Tlaib) they should "go back and help fix the totally broken and crime-infested places from which they came," then doubling down and asking for them to apologize to him. The other two women were Reps. Alexandria Ocasio-Cortez and Ayanna Pressley.
"I do not condone ― and in fact denounce ― the social media posts shared by my colleague and fellow Board Member Daniel Leonard," fellow board member Nardini said. "We must lead by example and set an example to our students and community that reflect our goals, ideals and vision for the future of this District."