Danielle Fishel Talks Mom Guilt: 'We Are Trying Our Absolute Best 100% Of The Time'
by Julie Scagell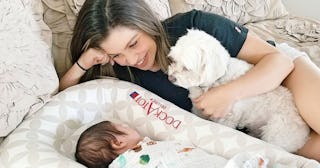 Danielle Fishel Karp/Instagram
Danielle Fishel opens up about her mom guilt in essay for Good Morning America
Former Boy Meets World and Girl Meets World star Danielle Fishel became a first-time mom back in June 2019 after welcoming a boy named Adler with husband Jensen Karp. Since then, she's been open about the ups and downs of parenting and the mom guilt she feels on a daily basis that she'd promised herself she'd never let herself feel once she became a mom. She recently penned a blog post for Good Morning America, opening up about the depth of her guilt and how she's learning to let it go.
Fishel gave birth to her son four weeks early after learning that her child had fluid in his lungs and needed to remain at the hospital for three weeks until he was strong enough to come home. "We feel [helpless] and powerless and useless," Fishel wrote on Instagram at the time. "We wanted so badly to follow our 'birth plan,' unsurprisingly none of which involved leaving our beautiful baby boy at the hospital for the first weeks of his life."
"Nothing in the world could have prepared me for the reality that being a mom would also mean never feeling like I'm good enough," Fishel wrote in the vulnerable blog post while adding that "naively, and perhaps arrogantly, I thought, 'I'll never let myself have mom guilt.' Then I had a baby."
A lot of her guilt came from Adler's early birth, health complications, and difficulty breastfeeding. "Why did my water break so early? Was it because I was on my feet working 12-plus hour days at almost 36 weeks? Was it all the spicy food I had been craving? Did I do something that will hurt my baby?" she continued.
Fishel went on to say that in September, she went back to directing Sydney to the Max for the Disney Channel. Though she had help watching the baby, she said not seeing him made her guilt even worse. "My first day back was hard. I came home after being away for 12 hours and Adler was asleep for the night. He hadn't seen my face since 7 a.m. that morning and now he wouldn't see it again until he woke me up for a middle-of-the-night feeding. As I cried over his sweet sleeping face, the guilt came back with a vengeance. 'Does he remember me? Does he think I abandoned him? Am I hurting my son by desiring a career outside the home? Am I selfish?'" she said, an all-familiar voice for any working mom.
She said regardless of how well any of us are doing as parents, the mom guilt is something most of us experience at one point or another as we adjust to the constant state of parenting. "None of us escape mom-guilt," Fishel wrote. "It's there whether you're a stay-at-home mom or work outside the house, but one there is one thing I know for certain each and every mother has in common: We are trying our absolute best 100% of the time."
She continued: "When you see a mom feeding her baby formula, or breast milk in a bottle, or directly from her breast, or through a feeding tube (I have done all of these in Adler's 15 weeks of life), or you see a mom dragging a screaming toddler through Target, or you see a mom calling home from work, or you get a text from a stay-at-home mom who is ready to pull her hair out, know that there is a story there."
Fishel summed up her story by reminding us we're not alone. "I see you," she wrote. "And you're doing great."
This article was originally published on