Danielle Fishel Nails Exactly What It's Like During First Days Home With Baby
by Julie Scagell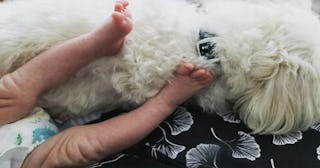 Danielle Fishel/Instagram
This is as real as motherhood gets, and Danielle Fishel is already nailing it
Danielle Fishel just had her first child, a boy named Adler, with husband Jensen Karp and is tired AF. She posted a totally relatable post, heartwarming post along with a sweet picture letting the world know she is exhausted — and life's never been better.
Fishel, best known as Topanga from Boy Meets World, gave birth to Adler three weeks ago and since bringing him home she's every single one of us trying to figure out the first weeks of life with a newborn: "The house is a mess, I have a stye on my left eye, I haven't showered in two days, I can't remember when I did anything (when did we change his diaper last? What time did I pump?)," she wrote next to an adorable picture of baby Adler's feet and their equally exhausted dog.
She went on to say she and Karp now "take baby night shifts where we pass each other like zombies on a mission," which basically happens for the first one to 18 months depending on how lucky you were in the baby sleeping lottery.
Fishel, shared an emotional post announcing the birth of their son after her water broke when she was just 35 weeks pregnant. She was hospitalized but after finding fluid in Adler's lungs, they decided to deliver early.
"Jensen and I have also become closer than we ever thought possible and the love between us has grown exponentially as we have leaned on each other during both our highest highs and our lowest lows," she shared with her followers. "We feel helpess and powerless and useless and we wanted so badly to follow our 'birth plan,' unsurprisingly none of which involved leaving our beautiful baby boy at the hospital for the first weeks of his life."
Once Adler was finally home, she posted another photo of the tri leaving the hospital for the first time, thanking hospital and NICU staff for their wonderful care. "We never wanted to know this hospital and its staff so well but now that we do, we can say with certainty there is no better place for children with medical needs," she wrote. "Now we hope to never be back."
It seems for the foreseeable future, Fishel and Karp will be manning the late-night (and early morning) shift, happily invested in the minutiae of the early days of parenting. For the pair who wed in 2018, it's just fine for them. These days, Fishel said, "are some of the best days of my life."
This article was originally published on