Danielle Fishel Celebrates Her 'NICU Graduate' With Sweet Instagram Post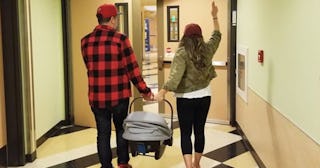 Danielle Fishel/Instagram
Fishel shares a heartfelt message about what being a NICU mom has been like since delivering her son
Giving birth to a baby earlier than their intended due date is, undoubtedly, one of the most terrifying experiences any parent can go through. It's always a relief when the babies can finally go home, safe and sound. Danielle Fishel is sharing her family's moment of happiness in a new Instagram post.
Fishel, best known as Topanga from Boy Meets World, gave birth to her son Adler three weeks ago. After spending the time since his birth in the NICU, Fishel says he's officially "graduated" and going home.
She thanks the staff at Children's Hospital in LA and Adler's two primary nurses for helping them through the emotional rollercoaster of her son's hospital stay.
"We never wanted to know this hospital and its staff so well but now that we do, we can say with certainty there is no better place for children with medical needs," she writes. "Now we hope to never be back."
A week after he was born, Fishel shared the news of Adler's arrival on Instagram in a heartwrenching post. She said her water broke at just 35 weeks gestation and delivered her son after doctors found fluid in his lungs. She said at that point, she and her husband Jensen Karp "entered a nightmare we'll never forget."
"We still don't have Adler home with us because the deeply good doctors and nurses in the NICU are working diligently to find out why the fluid is there and determine the best way to get it out," she wrote at the time. "This has been the most trying week and a half of mine and @jensenkarp's lives but we have gotten through it with the support of our incredible family and friends who have shown up for us in unexpected ways."
She explained how she and her husband, much like many NICU parents, felt "helpless and powerless" and just wanted so badly to follow their initial birth plan, which did not involve "leaving our beautiful baby boy at the hospital for the first weeks of his life."
Enduring a scary delivery and subsequent hospital stay comes with so much stress and heartache. Fishel mentioned she and her husband even struggled with whether they should publicly announce the birth of their son — something that brings so much simple joy to those who take it for granted, but can cause apprehension in NICU parents. Especially when one of them is famous, which unfortunately comes with an additional downside.
"We have also struggled with making this announcement – we are THRILLED Adler is here and we want to shout it from the rooftops but we know posting about his birth and it's complications opens us up to prying eyes – aka paparazzi staked outside our house, following our every move they way they did several times during my pregnancy," she wrote. "We are much too fragile for that right now and I pray wholeheartedly that we can have some space as we navigate these next few weeks."
She and her husband spent the past few weeks navigating as best they could, visiting Adler as much as possible and being loving, happy new parents.
Fishel and Karp ended their "NICU graduation" message with a shoutout to other parents who have found themselves in their position: "Finally, our love and hugs to every single parent who has ever spent time in the NICU and especially those we left behind today."