Topanga From 'Girl Meets World' On Why It 'Sucks' To Not Share Pics Of Her Kid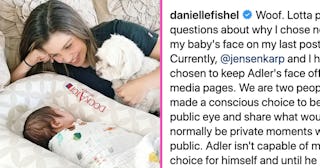 Danielle Fishel Karp/Instagram
'Girl Meets World' actress Danielle Fishel explains why she won't share photos of her son's face online
Danielle Fishel Karp, aka Topanga from Girl Meets World, welcomed her son Adler Lawrence Karp back in June, and since then, Fishel and her husband Jensen Karp have decided that they aren't going to share photos that show their son's face. Fishel Karp shared a photo of her son with her Girl Meets World co-star Sabrina Carpenter last week, but the new mom covered her son's face with an angel baby emoji. Not surprisingly, the internet was up in arms about it, because of course they were.
"Woof. Lotta people with questions about why I chose not to share my baby's face on my last post," Fishel Karp wrote on Instagram.
The actress went on to explain that she and her husband have decided to keep their son's face hidden for privacy, safety, and out of concern for their son's autonomy.
"We are two people who made a conscious choice to be in the public eye and share what would normally be private moments with the public. Adler isn't capable of making that choice for himself and until he is, we've decided to shield him from places where strangers can comment on him," Fishel Karp wrote, while adding that "choosing not to post pictures of him kinda sucks."
"I wanna show you my baby every day," she continued. "But I worry about a couple things. 1. His safety. There are weirdos out there. Enough said. 2. Putting pictures and facts about him onto the internet that he doesn't have any say in. I'd like for him to be able to curate his own footprint on the internet in the future without being mortified we posted about his his fear of swimming or his first crush."
Fishel Karp went on to cite other famous parents, like Kristen Bell and Dax Shepard, who don't ever post photos of their daughters' faces online, but added that she wishes she could be more like Chrissy Teigen — who is very transparent on social media.
https://www.instagram.com/p/Bzyv-zGHGld/
"In the end, [Jensen Karp] and I had to make a decision about what we felt comfortable posting and for now (at least) we have chosen to not post his face," the new mom added. "But I'm also not going to not post a beautiful picture of one of my best friends holding my baby for the first time because seeing an emoji over his face ticks you off. I'm sorry if that offends you but we're doing the best we can and it's hard. Being a parent and making decisions for your kid is tough. Fyi, dogs are easier."
To prove her point, Fishel Karp posted another photo of her son, this time with her TV boyfriend Ben Savage, and threw a silly robot emoji over her son's face as a beautiful "screw you" to the haters.
Do you queen.
This article was originally published on