The Internet Can't Get Enough Of This Baby's Expressions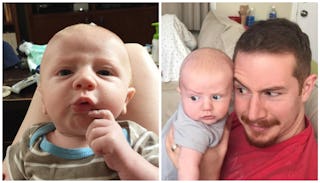 Image via Molly Mikos
Baby's unusually expressive faces charm the world in viral photos
An adorable baby boy's photos have gone viral because his little face does things that most babies do not. He makes hilarious and unusually mature expressions, much to the amusement of his parents and now, the entire internet.
Molly Mikos describes her four-month-old son Daniel as a happy baby with a huge personality. It was after sharing his photos on her Instagram account and with the site Bored Panda that she realized his funny faces were entertaining to anyone other than her family. They've now been shared on websites all over the world.
Mikos tells Scary Mommy, "Daniel has been making these faces almost since the day he was born. At first we didn't realize that it was abnormal because he's our first kid, but when we posted photos we got a lot of positive feedback from friends and family."
Saying the infant is "funny just like his dad," she explains that both father and son have "rubber faces." And after seeing them together, we would definitely agree.
So, yes. He comes by those funny faces honestly. And this is only the beginning.
Behold. His very best Dr. Evil impression.
If "evil" baby isn't really your thing, how about little Daniel raising his "WTF" brow at who even knows what?
We have so many options for our favorite Daniel and that's because he's constantly providing new material. Mikos tells us, "He makes these faces when he is feeling happy and frisky, so usually after he eats or wakes up from a nap. Recently he's been accompanying the faces with shrieks of joy! This happens frequently throughout the day, so I get lots of cute pictures to choose from."
Lucky us.
Continuing on our "Many Faces of Daniel" tour, we bring you, Super Hero Daniel.
And my personal favorite, Deep In Thought Daniel. What could he possibly be contemplating? Breast or bottle? Sleep or crying? Trump or Clinton?
There's also "Storm Pooper" Daniel, as the Instagram caption reads. And we can all figure out what this face is about. Show that poo who's boss, little bud.
Uh oh. Daniel smells a rat. Or maybe that poop was successful? Either way, his face tells us all we need to know.
We hope Daniel's parents keep up this Instagram account for a long time to come. Pretty soon, he will be able to simply tell them what's on his mind. But for now? Reading his faces is plenty of fun for all of us.
This article was originally published on