Netflix Finally Responds To Rape Allegations Against Danny Masterson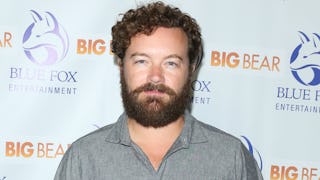 Image via Paul Archuleta/FilmMagic
Masterson isn't the first Netflix star to be accused of sexual misconduct
After cutting ties with House of Cards star Kevin Spacey in late October following multiple accusations of sexual assault against him, Netflix has once again fired a series lead for similar allegations. This time, it's Danny Masterson from their sitcom The Ranch.
Masterson starred as Jameson "Rooster" Bennett opposite fellow That 70s Show costar Ashton Kutcher on the Netflix hit, set to debut the second part of its second season this month. They will write Masterson out of the show following allegations of sexual assault by four women. A Netflix spokesperson tells CBS News, "As a result of ongoing discussions, Netflix and the producers have written Danny Masterson out of 'The Ranch.' Yesterday was his last day on the show, and production will resume in early 2018 without him."
The streaming service also shared the decision on their Twitter account.
In March, three women accused Masterson of sexual assaults dating back to the early 2000s. The actor is a Scientologist and at the time, claimed the allegations were false and part of a conspiracy to help ratings for Leah Remini's A&E TV show, Leah Remini: Scientology and the Aftermath.
But it wasn't until yesterday when Netflix's director of global kids content Andy Yeatman was confirmed to HuffPost by Netflix as having denied the allegations to one of the victims herself.
The woman, who HuffPost referred to as Victim B, is the wife of a youth soccer coach, and Yeatman was coaching a team as well, when a confrontation occurred at a game on Sunday. Both the victim and Yeatman's daughters play for the respective teams. She approached Yeatman and confirmed he worked for Netflix before asking why the streaming giant had yet to take action in regard to the accusations of sexual assault against Masterson. Yeatman told Victim B and a witness that "we don't believe them," referring to the four women who came forward.
That's when Victim B revealed herself as one of Masterson's accusers. The conversation ended at that point, but resumed about an hour later when Yeatman came back to speak with her saying he wasn't aware of who she was. Victim B tells HuffPost she told him, "I hope no one ever says that to your daughter," referring to Yeatman's statement of not believing the victims.
Yeatman told Victim B it's not up to him if Netflix does anything about the allegations. She told him, "Netflix is going to regret this, this is a mistake, they're going to see." Both the victim and the witness from earlier in the game confirm that Yeatman "condescendingly" told them, "We'll see."
Although Netflix denies the "we'll see" comment happened, they did confirm that the rest was true — and apologized for it.
"Mr. Yeatman's comments were careless, uninformed and do not represent the views of the company. Further, he would have no insights into decision making on The Ranch. We are aware of the allegations against Danny Masterson and we are following the current investigation, and will respond if developments occur," reads a statement to HuffPost.
And the rest is history. Masterson is off the show, but will appear in episodes already filmed, but is now done with production on any future episodes.