'The Good Place' Actress Joins 'A League Of Their Own' Adaptation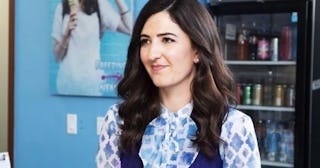 NBC
Janet fans, rejoice! D'Arcy Carden joins the cast of the anticipated Amazon adaptation of A League of Their Own
The '90s reboots are far from over. We may have seen the resurrection of shows like Full House and Beverly Hills, 90210 since their series finales in 1995 and 2000, respectively. And sure, some may have bombed almost immediately (we're looking at you aforementioned Beverly Hills), but that doesn't mean we're done. In fact, Amazon is currently working on an adaptation of the 1992 baseball dramedy A League of Their Own ⁠— and a The Good Place star has just joined the cast.
According to TVLine, D'Arcy Carden ⁠— who plays Janet on NBC's The Good Place ⁠— has been cast in an undisclosed role in Amazon's TV series version of A League of Their Own.
Carden will star opposite Broad City's Abbi Jacobson, who also happens to be co-writing and executive producing the series, according to a report in March 2018. Variety also reports that Mozart in the Jungle's Will Graham will write and executive produce with Jacobson.
For those unfamiliar, A League of Their Own tells the story of the All-American Girls Professional Baseball League. Penny Marshall directed the ever-popular film, which starred Tom Hanks, Geena Davis, and Lori Petty, as well as Madonna, Rosie O'Donnell, and Megan Cavanagh.
The Amazon version, however, will take a more modern approach.
"A League of Their Own is a half-hour comedy infusing the warmth, humor, and DNA of the classic film, while taking a contemporary spin on the stories of the women surrounding the All-American Girls Professional Baseball League," the logline reads. "The show will begin with the formation of the league in 1943 and follows the Rockford Peaches season to season as they struggle to keep the team alive through close games, injuries, late night bar crawls, sexual awakenings, not crying and road trips across a rapidly changing United States. The series dives deeper into the issues facing the country while following a ragtag team of women figuring themselves out while fighting to realize their dreams of playing professional baseball."
Will we hear "There's no crying in baseball!" in the TV series? Only time will tell. But what we do know ⁠— well, according to reports ⁠— is Jacobson and Graham reached out to Marshall before her passing in December 2018 to get her blessing before moving forward with the series.
According to CinemaBlend, production on A League of Their Own hasn't started, and a premiere date has yet to be scheduled. So, keep your eyes peeled for updates because this is sure to be a great, can't-miss adaptation that'll make lovers of the original film proud.
This article was originally published on