Teen Who Filmed George Floyd Video Awarded Special Pulitzer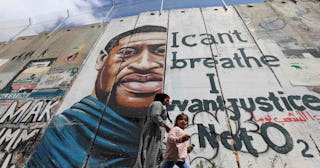 EMMANUEL DUNAND/Getty
Darnella Frazier was just 17 when she had the presence of mind to begin filming George Floyd's arrest
Darnella Frazier, the then-17-year-old who recorded the murder of George Floyd and testified during the murder trial has been officially recognized by the Pulitzer Prize Board with a special citation on Friday, June 11, 2021. Floyd's murder by former Minneapolis police officer Derek Chauvin ignited a summer of global protests against systemic racism and police brutality.
Frazier's video and courtroom testimony helped convict Chauvin on three murder charges. The world saw Chauvin kneel on Floyd's neck for nine minutes outside of Cup Foods on May 25, 2020, until Floyd stopped breathing. Frazier's Pulitzer citation reads: "For courageously recording the murder of George Floyd, a video that spurred protests against police brutality around the world, highlighting the crucial role of citizens in journalists' quest for truth and justice."
The Pulitzers are a series of annual prizes awarded by Columbia University for outstanding public service and achievement in American journalism, letters, and music.
Frazier, along with several other witnesses who eventually testified, were seen and heard on her video screaming at the officers and pleading with them to remove Chauvin from Floyd's neck. Floyd, who was handcuffed and unable to breathe, begged for his life. Frazier, who was headed to Cup Foods with her younger cousin, took out her cellphone and recorded the crime.
During the televised trial, Frazier told jurors she wishes there was more she could have done to stop Chauvin that day. "It's been nights, I stayed up apologizing and apologizing to George Floyd for not doing more and not physically interacting and not saving his life," she said tearfully. "But it's like, it's not what I should have done. It's what he (Chauvin) should have done."
She continued: "When I look at George Floyd, I look at my dad, I look at my brothers, I look at my cousins, my uncles, because they're all Black."
Unfortunately for people of color, if there is no video evidence of something happening, the chances of anyone (especially a police officer) being held accountable is low. Even with video, it is nearly impossible to receive justice for something as horrifying as Floyd's murder. Her bravery that day and during Chauvin's trial speaks to her character.
Pulitzer Prizes for journalism go all the way back to 1917 and are considered the field's most prestigious honor.
"As the prosecutors congratulate each other, thinking of young Darnella Frazier. There is no case without her," journalist Ann Marie Lipinski tweeted during Chauvin's trial. "The video record she made is one of the most important civil rights documents in a generation."
Others, including Oprah Winfrey, said she was "grateful for Darnella Frazier" and her actions that day. Actress Kerry Washington called Frazier a "hero," stating that "her bravery in that moment must never be forgotten." Minneapolis Gov. Tim Walz said Frazier's video "is maybe the only reason Derek Chauvin will go to prison."
Her Pulitzer citation is so well deserved.