Nightmare Fuel: Dashcam Footage Shows Toddler Running Down The Middle Of The Highway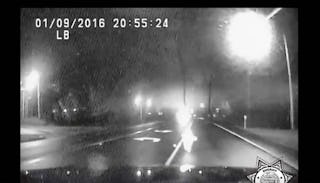 Toddler is rescued after found running down busy highway at night
A sheriff's deputy in Oregon rescued a toddler running down the middle of a dark highway. When the dashcam footage of the terrifying event was retrieved, the sheriff's office decided to release it as a warning to motorists about the dangers of distracted driving.
During the evening hours of January 9, 2016, Deputy Jeremy Gautney was driving on Route 101 in Newport, Oregon. He discovered a two-year-old child running down the middle of the highway, basically right towards his vehicle. The deputy quickly came to a stop and rescued the child from the danger of passing motorists.
In a statement released on the Lincoln County Sheriff's Department's Facebook page, Lt. Curtis Landers says they released the video "for educational purposes" and that it's "not intended to ridicule or question those involved." He reports that the incident was "investigated thoroughly and determined to be accidental and no criminal charges will be brought to the parties involved."
Hello, nightmare fuel. Lt. Landers said Gautney "quickly came to a stop and rescued the child from the danger of passing motorists." Soon after he rescued the child, the officer "was alerted to the child's frantic parents who were searching for him." The boy was not hurt and was quickly returned to his parents.
Landers explained that the child's mother and father had been "cleaning up after a gathering at a nearby community center" when the boy made his way out an open door and ran toward the highway.
This scenario strikes fear in the hearts of parents, everywhere. The initial reaction may be to think, How could this happen? but toddlers are fast and accidents happen. You just have to look to some of the comments on the Sheriff's video to see that many parents have been in a situation where their children have slipped out of their sight: thankfully not to such an extremely dangerous setting as this one.
Our brother many years ago during the night was seen on the main Blvd quite a ways from home. He was about 4 years old.
Same thing happened in our neighborhood about a year ago. Little boys walking down a busy street at 4am one morning. Police Officer on patrol found him thank goodness.
It can happen so fast, my daughter ran out of a store on 101 last year while I was paying. She was right next to me one second playing with my nephew and out the door in the road the next.
I will never forget when my son was that age and disappeared from our front porch just in a flash of a second… Once he was out of sight he had plenty of time to get to the highway while we were running around the house looking for him…
And there's more where that came from. A situation like this may seem unfathomable, but it happens. There are so many reasons we shouldn't allow ourselves to become distracted on the road, and yes, most of us won't run into this one. But the video is a great reminder that anything can happen. "Each day in the United States, more than 9 people are killed and more than 1,153 people are injured in crashes that are reported to involve a distracted driver," reports the CDC. You can find tips to help prevent distracted driving on AAA Exchange.
This article was originally published on