Dad's Date Night Solution For No Babysitter Problem Goes Viral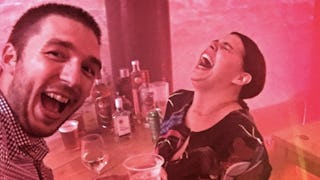 Image via Instagram
Husband gets creative for date night and the internet is loving it
When it comes to date nights and keeping the romance alive, life is tough on parents. Especially parents with kids still young enough to need a babysitter. Not only are trustworthy sitters hard to come by, they can be pretty expensive. One genius dad worked his way around all of that and set up date night in his own backyard.
Literally.
A video on the Facebook page LADbible has gone viral clocking in over 28 million views in just a few days. Once you see it, you'll understand why. Equal parts hilarious, relatable and adorable, it's got it all.
The video opens with a young couple lounging on the couch bemoaning the lack of date nights in their lives. "Can we do a date night soon? It's been ages — we haven't gone out in SO long," says the woman. They have a toddler and though she wants to go out, her partner whines about the cost of a babysitter. He offers to grab takeout, but she turns him down. We all know takeout doesn't count as a real date, bro.
So what's a good dad to do? Make it happen, that's what.
He finally relents and tells his partner to go get her hair done, get dressed up, and be home by 8 pm the next night. She giddily agrees and the next thing you know, she's on their doorstep, giggly and gorgeous, clearly thrilled for the childless evening ahead.
Except she immediately knows something is amiss. She asks where the babysitter is and he says she's not there. The look of disappointment on her face made us want to jump through the screen and babysit the kid ourselves, but what he has planned is even better.
He tells her to walk through the door and, behold — their date night.
That's right. Dude rented an inflatable pub. He brought the date night to their own backyard. And it's freaking amazing.
There's an actual bar complete with extensive wine and liquor selection. He pours her a very full glass (it's date night!) and they sit down to bowls of nuts and a video monitor screen. The "babysitter," that is.
But that's not all — this crafty guy also nabbed a smoke machine and some fancy lasers, effectively turning their backyard pub into a legit dance club.
Going out to a loud bar or restaurant and spending a bunch of money only to be jostled around a crowd of strangers isn't always appealing — or relaxing. Backyard date nights are a pretty fantastic idea for parents. You save money. You can wear yoga pants and ditch the bra if you want. And when the night winds down and you want to check on your babies, they're only a few yards away. Literally everyone wins.
At the end, he asks if they can keep their new pub. She says no, but we have to wonder if she changed her mind. Because we can't imagine a better date night than this.
This article was originally published on