9 Truly Helpful Online Dating Tips For Single Moms Of All Ages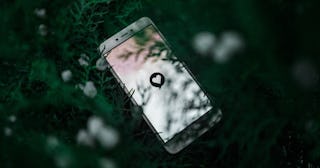 Pratik Gupta/Unsplash
Here's the thing people seem to forget: You don't lose your sex drive the minute you become a mother. And if you have a romantic partner, that's great — we hope you're very happy together. But if you don't, and that's something you're interested in, we fully encourage you to get out there and date if you want to. And by "out there" we mean dating apps, because is there any other way right now? If you've never done online dating before, you may be a little apprehensive about the whole process. But trust us, it's not that bad. In fact, swiping left and right can be pretty fun. Not sure where to start? Here are some helpful online dating tips for moms of every age to give you that first push.
Wait Until You're Ready
Wanting to start dating and feeling as though you should start dating are two different things. Even if everyone else in your life is pressuring you to get back out there, if your mind and heart are not in it, give yourself the time and space you need. Concentrate on yourself, your physical and mental health, practice self-care, see a counselor if you feel it's the right move for you, spend time with yourself, your family, your friends. Basically, take the time to check in with yourself, your wants and needs.
Related: Best Cities For Single Ladies Looking To Date — Based On Actual Data
But Push Yourself a Little
OK, fine, we know we just told you to take your time, but technically, you could get stalled here forever. Are any of us truly ever ready for anything? We know how that logic works. Even if you're a little uncomfortable at first — which is completely understandable — you may need to give yourself a little push to get back out there. Don't let others push you, it has to be a decision you make on your own, on your own terms.
Make Peace with Online Dating
Maybe we should have started with this one, but if you're going to do online dating, you have to truly get on board. If you're new to online dating or apps, this could be a completely different experience for you. And we get it — new experiences can be scary. But honestly, there's no stigma attached to online dating and frankly, it saves you precious time. Who wants to have to go back to meeting people in bars?
To make sure you're comfortable with the app you use, take the time to research which ones are best suited for your lifestyle, needs, and wants. Some apps allow women to make the first move, others attract like-minded people who have experienced divorce, while others are more generic. Whichever service you choose, you can test it out on your own terms and if it doesn't work for you, onto the next one you go. Remember, your comfort is key in this process.
Be Honest
When it comes to moms and online dating, honesty is the best policy. Be honest with yourself when it comes to what you're looking for in a potential partner. Be honest with anyone you may go out with about being a mom.
Make Truthful But Welcoming Profile
Like we mentioned: You need to be upfront about your kids, so that your potential date knows what they're signing up for. But, you're more than just your kids, right? Do you have pets? Do you want pets? Are you looking for a partner, a friend-with-benefits or a hook-up? What kind of date activities are you willing to try? Be very upfront if meeting in a bar sounds like a nightmare or if it's going to take a month of chatting and then becoming Facebook friends before you meet in real life. Yeah, some of this stuff may scare off some potential dates. But, did you want them, anyway?
Talk to Your Kids If/When You Meet Someone
Depending on your child's age, they may or may not notice that you're dating. But if they know what's going on, you're going to want to be honest with them. "Be upfront," Lanae St. John, a certified sex coach tells Oprah Magazine, and consider using it as a teachable moment with older kids. "When you get to a point where you're seeing someone special, take the opportunity with your children to discuss your special someone's qualities and characteristics, and why those are essential to you."
Go On As Many First Dates As Possible
We know you're short on time, but the whole point of online dating is to meet people, so go do it! Dates don't have to be long. In fact, meeting someone for lunch or a quick coffee is a great first date. At the end of the day, dating is a numbers game, so you want to play the odds and go out on as many first dates as you can. Who knows who you'll meet!
Be Safe
"Safe" can mean a multitude of things. First and foremost, it means to protect yourself from potential danger. Make sure that you're meeting somewhere very public and that someone (or multiple someones) know where you're going and "who" you're with. Maybe even set a timeframe with a friend. If they don't hear from you in two hours they know to call your meeting place and ask about you. Of course, being safe also means being "safe." Let's be real. Sometimes dating is just that: Dating. Sometimes, though, dating means hooking up. Whatever your preferred method for safe sex is, make sure you come prepared.
Don't Feel Guilty
As a mom, you may feel as though you need to spend all of your time with your kids. But that is absolutely not the case. You are your own person deserving of love and affection, and you shouldn't feel guilty about getting back out there. And, as Lara Lillibridge, author of Mama, Mama, Only Mama: An Irreverent Guide for the Newly Single Parent, tells Oprah Magazine, demonstrating what a healthy and happy dating life looks like for your kids is actually a good thing. "Kids need a healthy relationship role model," she says. "There's pressure for moms to be born-again virgins, and sacrifice everything for their children. While this might sound noble, children learn a lot by observation, and it doesn't teach kids what a good relationship—or dating life—looks like."
That also means not letting potentially unhealthy behaviors from your partner slide, especially during that early giddy stage of a relationship. For most of us, the early stages of love and relationships are where we let many little things slide. But while you shouldn't nitpick every tiny habit that is irking you in your new partner, you certainly shouldn't keep the blinders on to toxic, possessive, or other alarming behavior.
This article was originally published on