After Her Ex Murdered Their Daughter, This Mom Went To Congress To Change Child Custody Laws
by Wendy Wisner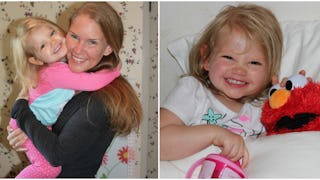 Jacqueline Franchetti
Kyra Franchetti was a happy, carefree 2-year old who loved bubbles and Elmo. She and her mother Jacqueline Franchetti were joined at the hip, often traveling together for Franchetti's work. Kyra loved gymnastics, swimming, soccer and music class.
RELATED: How Does Child Support Work And Other Child Support Questions Answered
Franchetti absolutely adored Kyra – as did everyone who met her.
In July of 2016, Kyra was shot twice in the back by her biological father, who set the house on fire and killed himself shortly after. Kyra was on a court-appointed visit with him at the time – a visit that Franchetti had spent months in court trying to prevent.
As you can imagine, Franchetti was absolutely devastated, her world shattered, especially because she knew that Kyra's death could have been prevented had the courts listened to her when she told them Kyra's father was a danger to her.
"Kyra should never have been inside that house alone with him," Franchetti tells Scary Mommy. "A New York State Family Court, the institution that was supposed to protect her and the sanctity of her life, instead repeatedly dismissed evidence of abuse and promoted parenting time with her murderous father."
Franchetti had tried to demonstrate more than once that Kyra's father was abusive, but her claims were repeatedly overlooked and dismissed. A forensic evaluator who had assessed Franchetti as well as Kyra's father dismissed allegations that he was abusive and suicidal. In the CPS report, anger and rage issues were raised, but it was resolved that there were no signs of domestic abuse.
Even the attorney representing Kyra would not take her claims seriously, says Franchetti. And the judge who ultimately decided Kyra's fate?
"The judge, when I brought forward evidence of abuse, told me to 'grow up,'" Franchetti recalls. "At our last court appearance, the judge […] stated, 'This is not a life or death matter.'"
Soon after Kyra's death, Franchetti learned that what happened to Kyra is all too common — and that we have a real problem in this country in terms of courts believing domestic violence survivors and protecting the lives of children entrenched in custody battles.
And so Franchetti took her grief – and Kyra's heartbreaking story – with her to Congress to try to make some changes.
This past September, Franchetti's hard work paid off. With the help of her own advocacy, along with over 50 other domestic violence advocates, the House passed H. Con. Res. 72, a resolution that outlines some much-needed steps that courts should take to protect children in custody battles.
Spearheaded by Rep. Pete Sessions (R-TX) and Rep. Carolyn Maloney (D-NY), along with 86 co-sponsors, it's not a "binding bill," but is nevertheless the first time Congress has spoken of these kinds of matters, and is a promising first step in protecting vulnerable children.
"It's incredibly significant because it's the first time the federal government has ever spoken explicitly, in an official capacity, about problems in family courts," Joan Meier, professor at George Washington Law School, tells Mass Live. "Congress is extending itself to say we're very concerned, children are dying."
Franchetti says the most important aspect of the resolution is that it seeks to make child safety a top priority in custody battles. In addition, it requires those involved in custody cases to have "appropriate background and knowledge in abuse and family violence." It also recommends all the evidence in custody cases be subject to "evidentiary admissibility standards."
"Right now, courts still favor the abusers," Franchetti says. "And, what happened to me can happen to you or someone you love."
Franchetti urges anyone – whether or not you have been in a situation like hers – to get involved.
"Talk to your state legislators and ask them to sponsor and pass legislation based on H.Con.Res. 72," she says. "If you are staying in a violent relationship because you know the divorce/family court system won't protect your children – also, speak up. Your legislators need to hear this."
Franchetti is pleased that all her hard work has paid off, but her fight is far from over.
"Until I know that we have resolved the vast problems that left her vulnerable, that enabled an abusive parent to murder her – I will continue to work for change and every day, I will fight for Kyra," she says.
And none of the "wins" in this battle will ever bring Kyra back to her — a reality she must live with every day.
"I will always be grieving for Kyra; that will never end. I miss Kyra every second of every day, and I still hope one day she will walk back in my front door; that I will wake up and this was just one horrific nightmare," Franchetti says.
"But, that will never happen."
Franchetti has set up a foundation to honor Kyra's life and to continue her work in protecting vulnerable children through advocacy and reform of the court system. You can donate to the cause here.
This article was originally published on