Creator Of 'Captain Underpants' Will Host Virtual Drawing Classes & Read-Alouds For Kids
by Valerie Williams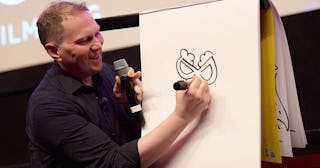 Ben Gabbe/Getty
"Captain Underpants" author and illustrator Dav Pilkey is going to teach kids to draw and read aloud from his books
Hi parents. You doing ok? Probably not, and part of that has to do with kids all over you at all times, demanding to be entertained while you're working from home, trying to homeschool, or just trying to have a thought in your head. Who can even blame them? Being quarantined is hard and boring, for both kids and adults. Thankfully, creative folks understand our parental plight and are starting to roll out virtual sessions to read aloud to kids and teach them to draw. The latest person to hop on that bandwagon is "Captain Underpants" author and illustrator Dav Pilkey.
The lessons and readings will come courtesy of The Library of Congress who is collaborating with Pilkey to create the weekly videos aimed at kids. But no one is saying that adults can't try their hand at drawing the illustrator's famous characters from his Dog Man and Captain Underpants series.
Starting April 1, the Library will begin releasing videos and downloadable activities for kids through their website and social media feeds. The content is all free and will include tips for creating original drawings or even videos teaching kids to act out scenes from Pilkey's stories. A spokesperson for Pilkey tells Scary Mommy, "It's a variety of videos including 'read-alouds' by Dav Pilkey, 'how to draw' videos by Dav Pilkey, as well as behind-the-scenes videos of Dav talking about his inspiration for his book characters."
On Fridays at 8:00AM, starting this Friday April 3, new videos will be released. But fear not, those in other time zones — the material is always available and not live-streamed.
In addition to the Friday videos, Pilkey offers all kinds of downloadable assets and activities on his website as does Scholastic.
Pilkey isn't the only children's author rolling out various forms of creative entertainment in a bid to help parents occupy their quarantined kids. Mo Williems, of "Pigeon" fame, is also doing weekly drawing tutorials for his little fans.
"I know a lot of you guys are not in school, you're at home right now because of all the things that are going on," Willems said in the announcement video. "Well guess what? I'm at home too. So for the next couple weeks… I'm going to make drawings with you, I'm gonna show you some stuff about my studio and we're gonna hang out together."
Honestly, bless him and Pilkey. This is what parents need right now.
Clearly, the kids are loving it.
We can't wait for Pilkey's videos to start rolling out so our bored kiddos have even more creative fun while isolating.
This article was originally published on