David Beckham's Birthday Message To His Daughter Will Melt Your Freaking Heart
by Valerie Williams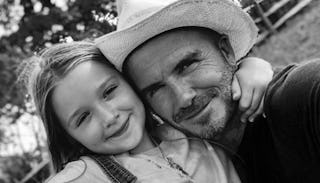 Image via David Beckham/Instagram
David Beckham posted a sweet birthday message for Harper on Instagram
Yesterday, David and Victoria Beckham's youngest child (and only daughter) turned seven. Yep, Harper Seven is now the same age as her middle name, and both parents took to Instagram to share sweet birthday messages about their little girl.
But it's David's that will have you sighing and melting into a puddle.
The Beckhams are parents to three sons, Romeo, Brooklyn, and Cruz — all teens. Clearly, both parents are enjoying their littlest as much as they can before she grows up too, because these messages are adorably doting:
Beckham writes, "What can I say about my little princess other than she is perfect in every possible way. Harper Seven has turned 7. Happy birthday to my big girl!! This little one is so loved by her brothers, mummy and daddy…special, special little girl." He closes out that heart-stopping cuteness by sharing that she makes him smile "every single day."
We know Harper has her dad wrapped around her little finger, (hello, LEGO castle-building hell he willingly put himself through to make her happy) but this is just too much for my heart to take.
Victoria's message to their daughter was no less totally heart-melty.
The Beckhams are truly no strangers to achingly sweet birthday notes on social media with David getting some love from Victoria and the fam for his own big day back in May.
Oldest son Brooklyn even returned home from college all the way across the Atlantic to help celebrate his dad. Someone's chopping onions in here, you guys.
We can't get enough of this loving family making sure the world knows how much they care about each other. Keep that coming all day long, please.