David Beckham Reminds His Sons He Was The OG Of Funky Hair Dye
by Julie Scagell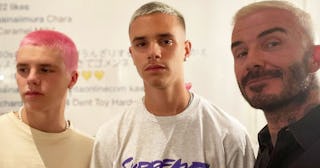 David Beckham/Instagram
Any chance to embarrass our kids is a good one
David Beckham knows how to put his kids in their place. The father-of-four recently posted a picture of his boys with dyed hair and wanted to gently remind them he was the OG of cool hair — and still is.
Beckham posted a picture on Instagram of his sons looking none too pleased that their dad decided to dye his hair to match their hip new 'dos. Son Romeo showed off his bleached grey-blonde hair next to his little brother, Cruz, who went bright pink. In honor of the occasion, Beckham chose platinum blonde, writing, "Sometimes the boys need reminding who did it first in the 90's by the look on their faces they are not to pleased about it."
If you have teens in your life, you know how easy it is to embarrass them. It can be as easy as telling a story, cracking a joke, or even just breathing in the same room as them. Having four kids with wife Victoria Beckham — Brooklyn, Romeo, Cruz, and Harper — means all the many more chances in a day to ruin their life just by being you.
Beckham famously dyed his hair in the past — often going platinum blonde when he played soccer for England's Manchester United (and other teams later in his career). He was a force on and off the field, but found the most passion in becoming a father.
"[T]ime goes by really fast," he said of parenthood. "One minute you're holding them in hospital for the first time and then, the next minute, they're driving their car. But it's the most special thing, I would never change anything."
His wife agrees fatherhood looks good on him. "[David] is the most incredible husband [and a] fantastic father," she told ET in 2017. "He inspires me every day. Not just seeing him with the children and how he treats me. It just works. We're very equal at home, and we're a really, really good team."
His kids seem to realize their dad is pretty amazing, even when he's embarrassing them. Son Brooklyn posted an adorable throwback of the two of them (and his braided, bleached hair), saying, "Happy Father's Day to my amazing dad xx and all the incredible fathers in my life love you so much."
Beckham also shares a lot of pics of him and the kids on social media. Recently, he shared one of he and son Romeo watching England beat Germany to get into the finals. "Special night last night at Wembley with fans back in the stadium watching the boys @englandbeat Germany .. Special to share this with one of my boys," he captioned the photo.
His kids are learning from the best.