Parkland Survivor Is Going To Harvard And Right-Wing Trolls Can't Handle It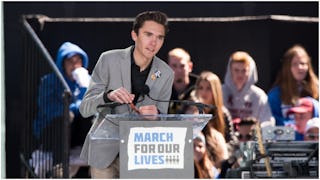 Image via Noam Galai/Getty
Parkland survivor David Hogg got accepted to Harvard University
Back in March, Fox News host Laura Ingraham mocked Parkland survivor and gun control activist David Hogg for getting rejected from some of the colleges he applied to. Now, Hogg has announced that he's been accepted to Harvard University and the victory could not taste sweeter.
Hogg took to Twitter to share the exciting announcement. "Thank you all for the well wishes, I'll be attending Harvard in the fall with a planned major in Political Science," he writes.
The 18-year-old has been making important waves by co-founding Never Again MSD, a student-led committee that advocates for gun control. He's also taken on the NRA, been a key speaker at March For Our Lives rallies, encouraged young people to vote, and actively promotes gun sense on his Twitter, where he has more than 900,000 followers.
His well-deserved accomplishment had Twitter cheering, mostly because this really passionate young activist got into a great school but ALSO because he proved Ingraham very, very wrong. The Fox News host had previously mocked Hogg with an insanely insensitive tweet, writing: "David Hogg Rejected By Four Colleges To Which He Applied and whines about it. (Dinged by UCLA with a 4.1 GPA…totally predictable given acceptance rates)."
Yup, she literally made fun of an 18-year-old school shooting survivor for not getting into the colleges he applied for. Backlash was swift. More than a dozen advertisers pulled out of Ingraham's program as a result, including TripAdvisor, Johnson & Johnson, and Liberty Mutual. "We do not…condone the inappropriate comments made by this broadcaster," a spokesperson from Trip Advisor said in an email to Politico. "In our view, these statements focused on a high school student, cross the line of decency."
So, that was all bad enough. But then, internet trolls started mocking Hogg's SAT scores after he got into Harvard because nobody can have nice things ever. An army of supporters came out and slammed people making fun of Hogg. Because who the hell thinks it's okay to go after a school shooting survivor?
Also, SAT scores have zero bearing on someone's capabilities and potential. Why are people so determined to cut down a teen who's working hard to make the world a safer place?
Shout out to my personal favorite tweet, which came courtesy of Twitter user @mmpadellan. "Sometimes good things happen to good people during the worst times while being attacked by the worst people," he wrote. "CONGRATULATIONS is due to David Hogg. Not just for being accepted to Harvard, but for hanging in there while a bunch of grown folks tried to drag a Parkland survivor."