David Hogg Is Starting A Pillow Company To Put 'MyPillow' Out Of Business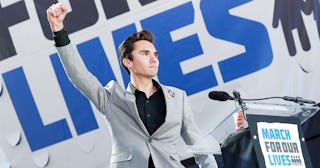 Paul Morigi/Getty
David Hogg is starting the anti-MyPillow company, where he'll employ unionized American workers and support progressive causes
Whoever thought that American politics would make the founder of an obscure pillow company into a household name? Mike Lindell, the pro-Trump CEO of MyPillow, has had a rough few weeks. Following the deadly Jan. 6 riots at the U.S. Capitol — and his continued insistence that the results of the presidential election were fraudulent — Lindell saw his products removed from a number of major retailers, and both his personal and business Twitter accounts banned.
Now, Lindell might have a new challenge to worry about — David Hogg, one of the survivors of the 2018 Parkland school shooting and a co-founder of the March For Our Lives, plans to start his own pillow company. And this company will stand for everything MyPillow doesn't.
Hogg revealed a little bit about his plans on Twitter, where he confirmed that he and entrepreneur William LeGate have teamed up. "Mike the 'mypillow guy' … This pillow fight just got very real," he wrote.
In another series of tweets, Hogg revealed some of his plans for the business, including that he plans to employ unionized American workers to manufacture his pillows.
"Key parts of the company," he wrote. "Union made in America to create good jobs that support American families… Have an emphasis on supporting progressive causes… Not attempt a white supremacist overthrow of the United States government… So you can sleep at night Relieved face."
The plans for a pillow company that will "put MyPillow out of business," according to tweets, sounded like a joke at first. But Hogg and LeGate are clearly serious. They tweeted that they're testing pillow samples, making a manufacturing deal, and working on a trademark and name. They also told fans that they're funding the venture 100 percent themselves.
"We want to retain complete control so no compromises on values," LeGate wrote.
On the surface, this seems like a pretty petty move. But we can't help but cheer Hogg on. He's been through so much in his life, but despite that, he's always turned up to fight to make the world a better place. The MyPillow CEO, on the other hand, has been a vocal part of the "Stop the Steal" movement and cheered on the insurrectionists who stormed the U.S. Capitol. In other words, next time you need a new pillow, there's going to be a far better option.