Dax And Kristen's Daughter Had The Best Reaction To Finding Out Her Parents Are Famous
by Leah Groth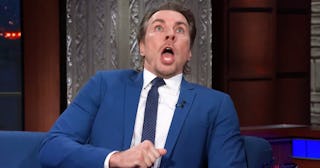 CBS/Youtube
In a new interview the actor reveals how he broke the news to one of his daughters, and her reaction was hilarious!
Dax Shepard and Kristen Bell are one of the most adorbs couples in the celebrity world. To their children, however, they're just an adorable couple. Because, well, until recently they had no idea that Mommy and Daddy were even famous.
During an appearance on Stephen Colbert's Late Show on Monday, the outspoken actor revealed that his daughters, Delta Bell, 4, and Lincoln, 6, haven't really grasped the concept that their parents are a household name — despite the fact that mom hangs out with Queen Elsa.
"They know that mom is Princess Anna from 'Frozen,' they know that, they understand it. They've been to set, they've seen us work, they have seen billboards around town, and people have taken photos of us when we're out and about," the Armchair Expert podcaster said.
"But, I was talking with my daughter, and she said, 'Why do people listen to the podcast? Do they listen for you? Or Monica' — my co-host?" Shepard said, adding that listeners "started listening because they knew me, and not Monica."
He then revealed the shocking news to his little girl — that he was "famous," and she totally flipped her lid.
"YOU'RE FAMOUS?" she exclaimed. After letting the news marinate for a moment, she then asked her father, "Does mom know?" So he decided to rock her world a little more. "Honey, mom's more famous than dad," he responded. "And she goes, 'MOM'S FAMOUS TOO?'"
Obviously the audience was in stitches at this point. "And I was like, 'What is happening right now?' She understands how we're making a living, but the word 'famous' was its own thing. Like at kindergarten, I guess we were all of a sudden Taylor Swift or something ― or Pink," he continued.
But in all honesty, we can sort of get how Dax and Kristen's kids think they are just normal ol' mom and dad. Compared to so many of the parents in Hollywood, they seem so incredibly down-to-earth. For real, they might actually deserve one of those "Stars, They Are Just Like Us," features.
For instance, if their kids tell them to get dressed up like princesses and play with them, they (unhappily) oblige.
Just like us, they go on date nights, cry at their children's pre-k graduation and even wear matching Christmas jammies.
And, they are always totally transparent about the ups and downs of having kids and all the stuff that goes along with (which includes getting busted doing the deed by their kids) which we always appreciate. Because, hey, we can all totally relate.