Dax Shepard Takes To Instagram To Prove The Lengths Dads Will Go For Playtime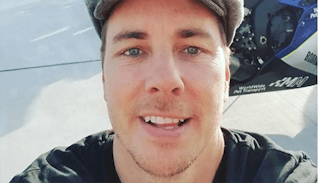 Image via Instagram/Dax Shepard
Dax Shepard's daughter gave him his marching orders while playing pretend
When parents play pretend with their kids, it's not always fun and games. Usually little ones save the plum roles for themselves and force mom or dad to be something far less desirable. Dax Shepard knows this pain all too well and shared it with the world in a recent (hilarious) Instagram post.
Shepard and wife Kristen Bell are adorably open about their lives as parents, even if it means cluing people in to the more humiliating aspects of raising kids. Like being actual Anna from Frozen and having your daughter prefer Elsa anyway? So harsh, kid. Now, Shepard is letting us all know who's boss in his house when it comes to assigning pretend roles — and it sure as hell isn't him.
See that guy with the dead-behind-the-eyes gaze of a dude who's been made to play the "little sister" a few hundred times too many? That's the most Dad look of all time ever. He writes, "In this scenario I'm 'Little Sister,' and my 3 year old daughter was 'Big Brother.' My 5 year old was 'Mommy,' and damn was she strict."
You know that saying, "when a toddler hands you a pretend phone you answer it?" Well, when a preschooler gives you directives in her complex world of pretend, you do as she says — and Shepard is fully committed.
Note his glamorous and regal headgear, despite having the lowest title in the pretend play hierarchy (we all know "Mommy" is the number one part to play followed by Oldest Sibling). Shepard's relegated to being the baby of the family and is also unceremoniously shoved into the lower bunk where he glumly clings to a few stuffed animals his preschool overlords were benevolent enough to lend him.
And I'm sure he's loving every minute.
My kids have asked me to play every undesirable role from the witch to the ogre to the mean troll under the bridge, and even though I'd love to be the princess every once in awhile, I do find it hilarious that I usually get to be the thing no one else wants to be. Like, welcome to motherhood — you get to wipe butts and be the crappiest thing possible during pretend games.
Dax and Kristen feel our pain.
But this is the life we signed up for, and just like Shepard, I wouldn't change it for anything.
This article was originally published on