Daycare That Let Two Boys Get Severely Sunburned Should Be Shut Down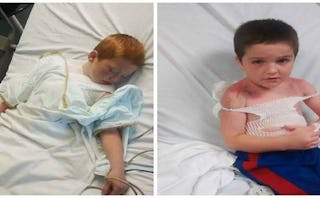 WARNING: GRAPHIC IMAGES BELOW
This is a nightmare story for any parent who relies on a daycare to watch their child while they work. Two Vinita, Oklahoma boys sustained second and third-degree sunburns after workers at their daycare allowed them to play in the scorching sun all day without sunblock or t-shirts.
Shaunna Broadway dropped the boys off at Happiness is a Learning Center daycare at 9am Friday morning. The daycare took the kids to Splash Pad, a local waterpark, for the day. When Broadway returned to the center to pick them up, her 5-year-old and 7-year-old son were crying, agitated and complaining of pain on their backs. She told Buzzfeed that when she questioned the staff about it they told her they ran out of sunscreen and the kids wouldn't keep their shirts on: "[The employees] were actually making fun of my older son, because both boys got sunburns but he was being a 'baby' and crying about it."
The heat index was 118 degrees in Vinita that day.
Broadway called the local hospital and was told they couldn't do much until the burns blistered. They sent her to the pharmacy for cream and pain meds. By Saturday morning, the burns had blistered and the boys were in intense pain. These images are hard to even look at:
From Buzzfeed: "We took the boys to the local hospital on Saturday, where the doctors lanced the boils and blisters on their backs, applied cream, and sent us home with more pain medicine," says Broadway. "But the boys kept screaming and crying all day. My oldest one's chest started hurting and he said he was having trouble breathing."
The boys had to be airlifted to Shriner's Hospital in Texas, which has children's facility that specializes in burns. They are currently being treated for second and third degree burns. "We are investigating the criminal element of neglect with the Oklahoma Department of Human Services," Officer Bobby Floyd told BuzzFeed Life.
The boys both have fair skin. It's insane that the daycare didn't think there was a problem leaving two fair-skinned boys in their care without sunscreen for an entire day in the sun. And laughing at the pain of the children? This is an unforgivable offense.
News One uncovered that the daycare has been cited 19 times in the past year – mainly for staffing, signage and scheduling issues. When it comes to daycare violations, there has to be some kind of diligence to prevent the possibility of this kind of neglect. Can you imagine scooping your children up from daycare and finding that? I get upset when they forget to put bug spray on my kids, or when my kids come home with a cold.
Screw the workers at this daycare for thinking this was no big deal. It's tantamount to child abuse and they should pay for it.
This article was originally published on