Daycare Employee Caught Breastfeeding Child In Her Care Without Permission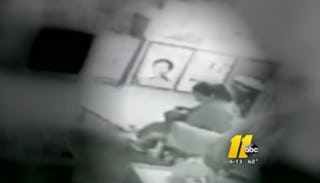 Image via ABC7
She breastfed the infant only moments after being told not to
The topic of moms nursing each other's babies can be a controversial one. Some women think it's no big deal and actually find the arrangement convenient, while others would never dream of it. Regardless, it's one thing when a mom has explicit permission to breastfeed another woman's baby.
What happens if she does it without asking?
According to ABC7 News, Kaycee Oxendine caught a daycare worker at Carrboro Early School breastfeeding Oxendine's three-month-old son, despite being asked twice by the mom not to do so. Oxendine is a pre-kindergarten teacher at the school and was able to see and record security footage of the employee doing exactly what she was told not to do.
It was when the baby showed signs of being constipated that the daycare worker first approached Oxendine about nursing him herself. "She said that she had a son and did I want her to put my child to her breast and breastfeed? And I said no, that's nasty. We don't do things like that."
Yikes.
As the video shows, the employee brings the infant to her chest and feeds him for several seconds. Oxendine says it happened only moments after the discussion over the employee offering to nurse him.
Now, she's hoping police will press charges. They're currently investigating the woman for child abuse. Oxendine says, "As a mom, you've taken something from me, because I wasn't able to defend my child. I wasn't there."
To top it all off, the infant is lactose intolerant, and having the employee's milk made him so ill from vomiting that he had to be rushed to the hospital later that night. "To me, a criminal act was committed against him," she said. "Not only did you put your breast to my son, you also made my son sick because he's lactose [sic]. So you've put something in his body that his body can't digest."
Darren Council, the daycare's director, tells ABC 11 that the worker who breastfed the child is no longer employed there. The school has a "superior" classification from the North Carolina Department of Health and Human Services and Council reported the breastfeeding incident to DHHS. He also alerted the parents of the other kids under the employee's care that day.
For her part, Oxendine sounds more than reasonable and isn't placing blame on Council or the school. "He's done everything in his power that he can do so I'm not angry at the director. I'm not angry at the childcare center. I'm very angry at the employee. I do hope that there's justice for my son."
This article was originally published on