What We Need To Know About Sending Our Kids Back To Daycare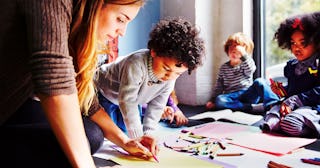 Cavan Images/Getty
Vermont, the state where I live, has the lowest coronavirus growth rate in the United States. With that, Gov. Phil Scott announced recently that daycares and summer camps will reopen June 1st with very strict guidelines. He and the Vermont Department of Health remain cautious and vigilant. Without clear guidance on a national level or even consistency state-to-state, I am grateful to have a leader who is compassionate, mindful, and trusting of our best scientists and doctors. He has put health above economics, but also knows the financial pinch many are feeling.
Without childcare, many families can't return to work. As states across America start to open up, daycares and summer camps are part of that process too. But many people wonder if it is too soon. Is it safe?
Yes, people need to get back to work, but is opening up daycares–and potentially increasing the spread of a deadly virus–worth the risk?
"Safe" Has a New Meaning
The impacts of the pandemic and cases of COVID-19 have varied state to state. Each state has handled the pandemic in different ways. Sadly, an uncaring, unbiased, and life threatening virus has been made into a political and economic weapon. Death by ignorance should be a crime, yet flattening the curve has started in many areas, so states are beginning to re-open. We shouldn't march in groups with guns and threaten to sue if we can't go into a store unless we have a mask, but we can't demand folks to not reopen their businesses and homes. And with that reopening comes the need for safe environments for kids while parents work.
Christina McLaughlin, Director of Essex Junction Recreation and Parks Preschool in Vermont tells Scary Mommy, "With proper guidance, financial resources, strict safety procedures and creative solutions to logistical hurdles, early educators are armed with what they need to bring the littlest members of our community back together safely."
"'Safe' is a relative term now," Kate Connor, an assistant professor of pediatrics at Johns Hopkins University and the medical director of the Rales Health Center at KIPP Baltimore tells USA Today. "All of these things are sort of risk-reduction traits essentially, but none of them will be 100%, particularly if COVID is still circulating in the community."
So What Do the Guidelines Suggest?
The CDC has added guidelines to their website for how to reopen daycare centers and camps, but per the White House's request they are mere "decision trees." According to The Washington Post, longer guidelines are being reviewed by the White House — but we're in late May, and many states are already running daycares or about to reopen them.
The guidelines read that pick up and drop off times should be staggered and the same person should be bringing the child(ren) to care each day. All staff and guardians are required to wear cloth masks, and it's recommended that children over the age of two wear one as well. Before a child can enter a daycare building, their temperature is taken, questions about exposure and symptoms are asked, and staff look at the child for visible signs of infection.
Children will be kept in the same groups of no more than 25 kids, and in the same spaces, and will have the same providers as well. Within that space, physical distancing will need to be maintained, and toys that are played with or chewed on will need to be disinfected often or removed (although anybody who's ever met a kid realizes that this sounds like a full time job in itself). And of course that rigorous disinfecting will mean that commonly touched surfaces, kitchen areas, and bathrooms will need much more frequent attention.
Older kids will learn the ways of our new normal, but infants and toddlers don't give a fuck about social distancing. Holding, comforting, feeding, and caring for small children requires providers and kids to be in constant contact. This is going to prove difficult — if not damn near impossible — to balance with the cleaning and social distancing requirements that the guidelines recommend.
Some may think these guidelines are too much, or unreasonable, while others will say they are not enough. No matter what is being said on a national level, until your state has proper guidelines in order, daycares should not be reopened.
Risk vs. Reward
On one hand, when it comes to COVID-19, it isn't just our physical health that's at risk. The longer we are asked to stay home or shelter in place, the more desperate folks become. Many Americans are struggling to work with kids underfoot or not able to pay bills because they can't work without access to child care. Nearly 39 million Americans are unemployed and 40% of low-income households have experienced job losses. These include families who need child care and the child care providers themselves.
Folks who were already housing and food insecure are barely making ends meet. And those who were scraping by have slid into places where they may not be able to recover for a long time. Kids in the best of homes are struggling to make sense of the world; kids living in homes with greater stressors are hurting and in danger, especially if living in an abusive home. Because of these factors, many argue that the risk of sending kids back to daycare or summer camps is worth the reward.
On the other hand, a person's opinion of risk vs. reward has everything to do with perspective. It will largely depend on how hard-hit their area has been, and how much COVID-19 has affected them personally — something that parents will have to consider when deciding whether daycares are safe. In rural areas, infection rates are generally low, so people may feel comfortable with sending their kids back into a public space. But in places like New York City, where there have been over 200,000 confirmed cases, the risk is infinitely more substantial.
Even though the guidelines for states have been laid out, that doesn't automatically mean everything is fine; parents will need to look at local factors to determine whether it's truly worth sending their child back to daycare, says Connor in USA Today. Have new cases, hospitalizations, and deaths been on a decline for two weeks or more? Is there adequate testing available?
There are still so many frightening unknowns surrounding COVID-19, especially where kids are concerned; after all, we've gone from initial reports that it barely affected children to the latest unsettling news of MIS-C, a pediatric inflammatory syndrome associated with the virus. In light of that, it's important not to have an overinflated sense of security just because the country is beginning a tentative reopening. Aly Richards, CEO of Let's Grow Kids, a statewide movement to ensure affordable access to high-quality child care for all Vermont families, says, "It is important to remember that in these uncharted pandemic waters, nothing is without risk."
Even if daycare or summer camp is available, some families will choose not to send their kids back; many families don't have that option. We've all felt the strain of working from home with kids for the past few months, but if we can continue to do so, keeping our kids home with us will not only minimize the risk to them, it will free up daycare slots for the kids whose parents work outside the home and have no choice. And fewer kids in the daycare means an easier time adhering to the stringent guidelines that will be a critical measure now.
McLaughlin tells Scary Mommy she feels supported and confident that her center in Vermont will reopen successfully. She knows not all centers have this luxury, and is excited to provide the relative normalcy that kids desire. "Amidst a world of chaos," she says, "young children need a safe and familiar space to simply be."
This article was originally published on