El Paso And Dayton Mark 251 Mass Shootings In The U.S. In 216 Days
by Julie Scagell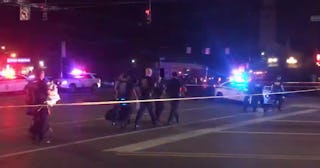 DEREK MYERS/AFP/Getty Images
So far, 29 people have been shot and killed in the last 24 hours
Most of us are waking up this morning still reeling from last night's news of a mass shooting in El Paso, Texas that killed 20. However, less than 12 hours later, another shooting occurred in Dayton, Ohio, overnight — killing nine and making it the 251st mass shooting in the U.S. this year, more shootings than days of the year.
The shooting spree in the early morning hours on Sunday outside the Ned Peppers bar in the Oregon District left at least nine dead and 26 injured. According to reports of witnesses, the shooter was wearing body armor, used a ".223 high-capacity" gun, and had additional magazines with him, according to Dayton mayor Nan Whaley. The shooter was shot and killed by police.
Police said that "thousands of people" would have been in the area on a Saturday night, including police who responded within 60 seconds of the shooting beginning. "The officers were there less than a minute from the beginning of the shooting. The shooter was able to kill nine people and injure 26 in less than a minute," Whaley said during a news conference.
Taylor Mayberry, who was inside Ned Peppers when the shooting took place, told NBC News she hid in the bar's bathroom as "tons of gunshots" were going off. "I just heard a few gunshots and then saw everyone jumping to the ground," she said. "I've never experienced anything like that, so I dove to the ground and started running to the bathroom. I saw people trying to move toward the exit."
This latest mass shooting comes less than 24 hours after 20 people were killed and 26 more were injured in El Paso, Texas when a gunman opened fire in a Walmart, victims (both injured and killed) ranging from just four months old to 82 years old. Governor Greg Abbott said the case will be prosecuted "as both a capital murder but also as a hate crime." Police said there is evidence the gunman wrote a four-page document posted online which talked about his white nationalist, racist, and anti-immigration views.
So far this year, more than 520 people have died in mass shootings and at least 2,000 have been injured. In the past weeks alone, two people were shot and killed at a Walmart store in Southaven, Mississippi, three people were killed at the Gilroy Garlic Festival in northern California (including a six-year-old and 13-year-old), and now 29 more innocent lives have been taken in El Paso and Dayton in senseless acts of domestic terrorism.
"Time and again, I as mayor have been amazed by Dayton first responders. If Dayton Police hadn't gotten to the shooter in under a minute, hundreds of people could be dead," Whaley continued. "What's very sad is I have gotten messages from cities across the country — so many of us have gone through it."
This article was originally published on