D.C. Pharmacists Offer Vaccine Shots To Lucky Grocery Shoppers
by Kristine Cannon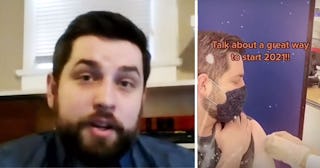 NBC Washington/Youtube
People are reporting that they got a COVID-19 vaccine unexpectedly when a pharmacy had extra doses due to expire
Anyone else also considering lingering around their grocery stores? We certainly are after hearing about how D.C. pharmacists are handling their leftover, soon-to-expire COVID-19 vaccine doses: They're offering them up to lucky shoppers who just so happen to be at the right place, at the right time.
"She turned to us and was like, 'Hey, I've got two doses of the vaccine and I'm going to have to throw them away if I don't give them to somebody. We close in 10 minutes. Do you want the Moderna vaccine?" one of the lucky few vaccinated Giant Food shoppers, David MacMillan, told NBC Washington.
Because Moderna's vaccine must be kept at the very low temperature of 36 to 46 degrees Fahrenheit, it must be used within 12 hours of reaching room temperature. If it doesn't, it's effectively expired.
"Obviously the pharmacist is the hero here," MacMillan said. "She only had a short period of time and she wanted to make sure that as many people got vaccinated as possible. So props to her, absolutely," he said.
MacMillan wasn't alone in getting a first dose of the Moderna vaccine. Not only did his friend get one, but so did fellow D.C. resident Franck Le Bousse, who was shopping at a Safeway. According to People, Le Bousse said a pharmacist had 12 extra doses of the Moderna vaccine. So, Le Bousse called up his wife, Beth Miller, who bolted down to Safeway and also received the shot.
"I just grabbed my coat and ran," Miller told The Washington Post.
https://www.instagram.com/p/CJmRaRTrs48/
It doesn't even end there!
Over in Arlington, VA, Rob Towner heard about how people in Israel were handling the leftover vaccines — that "technicians … would grab an Uber driver or a food delivery person."
"I began to see in Washington, D.C., to my surprise, that there were Giant and Safeway locations where the pharmacists were effectively doing the same thing," he said.
So, Towner called a nearby Safeway, arrived at 2 p.m., waited, and — lo and behold — got his first of two shots.
Word quickly spread — and many, many phone calls later, D.C. pharmacies' waiting lists were full as of a couple days ago.
"The DC Department of Health has made it clear to Giant that if doses of the Moderna vaccine will expire, they should be administered to anyone willing to take it," said Daniel Wolk, a spokesperson for Landover, Md.,-based Giant Food, in a statement per DCist. "The Moderna vaccine is valuable and lifesaving, and we are happy to not waste it by giving doses to our associates and customers should a healthcare worker not show up for their appointment."
According to the CDC, more than 5.9 million people in the U.S. have received a COVID-19 vaccine. And according to federal government yesterday, they have delivered more than 21.4 million doses to states, territories and federal agencies. Most of the first vaccines have been given to healthcare and frontline medical workers and nursing home residents.
Information about COVID-19 is rapidly changing, and Scary Mommy is committed to providing the most recent data in our coverage. With news being updated so frequently, some of the information in this story may have changed after publication. For this reason, we are encouraging readers to use online resources from local public health departments, the Centers for Disease Control, and the World Health Organization to remain as informed as possible.