Rejoice! 'Dead To Me' Will Return For A 2nd Season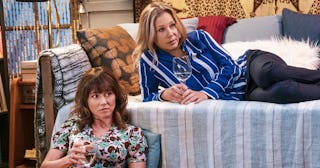 Netflix
Jen + Judy = Forever
Fans of the Netflix hit Dead To Me should be doing all of the happy dances today because the uber popular series has officially been picked up for a second season.
Series creator (and 2 Broke Girls writer) Liz Feldman made the exciting announcement during a For Your Consideration Emmy panel this week and we will be patiently Googling a pending release date for the foreseeable future.
If you've not yet seen the series and are looking for a new binge-worthy show, please put Dead To Me at the top of your list (and watch Always Be My Maybe after that — Netflix is honestly killing it lately). This dark comedy had a heart-stopping 10-episode first season and left fans begging for more with their final scene.
The show stars two powerhouse women, Jen (Christina Applegate), a devoted mother and recent widow who is spiraling out of control from a combination of grief and guilt, and Judy (Linda Cardellini), her new BFF who is harboring her own secrets and a deep-seated grief that will punch you right in the gut. Steve (James Marsden) also makes his way into many of the episodes and you will eventually come to despise him despite his dreamy exterior.
The show follows the women as they meet at a grief-support group run by Pastor Wayne (Keong Sim), a character you both want to punch in the throat and earnestly hug simultaneously, who attempts to help people come to terms with love and loss. Judy tells the group she's there because she lost her husband, Steve, but viewers soon come to find out she's dealing with a whole lot more.
Throw in a hit-and-run, some major deception, infertility, broken marriages, teenage angst, an over-the-top mother-in-law, and complex friendships born out of a house of cards, and you have the makings of a series that leaves fans unable to get enough. Side note: You can binge the entire first season on a Saturday, no problem.
The supporting characters are just as easy to relate to and I think that's why the show resonates with so many people — it's equal parts humor, tragedy, bad decision making, love, loss, and forgiveness — emotions every single one of us can relate to.
Feldman teased fans about a possible season 2 earlier this year. "It will be about the further exploration of this friendship, and relationship, and now very complicated dynamic, or even more complicated dynamic between these two women," she told Entertainment Weekly. "What I wanted to do was create a situation where they're forced together, and they need each other now in some ways more than they did at the beginning of season 1."
If you've ever experienced grief or the loss of a loved one, it can be hard to conceive of humor mixed with immeasurable sadness, but the show seems to portray them perfectly, both on their own merit and together.
Applegate and Cardellini will return in their respective roles for the 10-episode Season 2, set to hit Netflix sometime next year.
This article was originally published on