Teen Suspended For His Dreadlocks Rocks Them On The Oscars Red Carpet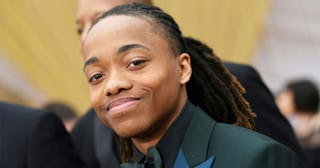 VALERIE MACON/Getty
DeAndre Arnold's dreadlocks looked great on the Oscars red carpet
DeAndre Arnold, the Texas teen who was suspended from school and barred from walking in his own graduation because he refused to cut his dreadlocks, has been an inspiration to many. Even after being told that his hair was too long to comply with his school's dress code, Arnold stood steadfast, refusing to cut the locs that honored his father's Trinidadian heritage. And the team behind the then Oscar-nominated (and now Oscar-winning) short film Hair Love took note.
Hair Love tells the story of a dad who has long, beautiful dreadlocks, and his commitment to learning how to care for and style his daughter's natural hair. It's no wonder the team behind the short film, which includes Gabrielle Union and her husband, Dwyane Wade, connected to Arnold's story. So they reached out to him with a surprise.
"Since Deandre Arnold's school didn't want to let him walk at his graduation because of his hair we figured that he should walk with us on the red carpet at the #Oscars as our special guest," Matthew A. Cherry, the film's writer and director, wrote on Twitter.
Cherry also extended the invitation in a video, where Union and Wade joined in to send some encouraging words to Arnold.
"We love the way that you carry yourself and we wanted to do something special for you," Wade said in the video, going on to say that he and Union would cover costs for travel and hotels for Arnold and his whole family to go to L.A., and for Arnold and his mom to attend the red carpet and the show. They even got their own personal glam squad to help them get ready for the show, and they had Arnold — and his gorgeous dreadlocks — looking fierce on the red carpet.
It turned out to be a great night all around — Hair Love won the Oscar for best animated short, and we're sure Arnold and his mom had a great time celebrating with the team that made the film.
Arnold's story has gotten a lot of attention ever since his school first suspended him for his dreadlocks. His family was looking into legal action, but to avoid the teen having to miss too many classes, he ended up changing schools. His future looks bright, though — when Arnold appeared on The Ellen Show to talk about the whole situation, Ellen presented him with a $20,000 scholarship to put toward his college education, wherever he wants to go to school.