Former NFL Player Pays For 500 Mammograms To Honor Late Mother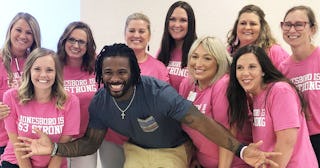 The DeAngelo Williams Foundation/Facebook
The former Steelers running back first started paying for mammograms back in 2014
Former Pittsburgh Steelers running back DeAngelo Williams lost his mother, Sandra Hill, to breast cancer back in 2014. He also lost four aunts to breast cancer before they each reached the age of 50. Wanting to honor his family's fight against the disease and his mother's legacy, he decided to start paying for women all over the country to receive mammograms.
Williams began paying for the mammograms through his nonprofit organization, The DeAngelo Williams Foundation. He's since paid for a total of 500 mammograms at hospitals in Pittsburgh, Pennsylvania; Memphis, Tennessee; Jonesboro, Arkansas; and Charlotte, North Carolina.
"To be able to help all these women is amazing. This can be life-changing for these women," Williams tells TODAY about his foundation's accomplishment. "We are enabling them to get this care that no one should ever be denied or not have access to."
According to the organization's website, "The DeAngelo Williams Foundation is a non-profit organization whose mission is to develop and seek initiatives to support the eradication of breast cancer through preventative care and research. Since its founding in 2006, the foundation has raised an immeasurable amount of awareness and stirred up two-way conversations about breast cancer, both online and offline."
When he first began sponsoring the free mammogram screenings in honor of his mother, it was through the "53 Strong for Sandra" program. At each event, his foundation sponsors mammograms for 53 women. He says he hopes his foundation will eventually be able to host a free mammogram screening event in every state.
His mother was first diagnosed with breast cancer in 2004. Throughout her battle, Williams showed his support for his mother by dying his hair pink and pushing for the NFL to allow all players to wear pink cleats throughout October for Breast Cancer Awareness month. While playing for the Steelers, he asked the NFL if he would be allowed to wear pink on his uniform all year — as a further tribute to his mother and aunts — but the league declined his request.
Regardless, Williams has continued moving forward with his foundation and has since retired from the NFL. But that hasn't stopped him from helping hundreds of women through his foundation's program.
"DeAngelo wants to ensure that no woman (or man) fights breast cancer alone," Risalyn Williams, his wife and executive director of The DeAngelo Williams Foundation, tells TODAY in an email.
Recently, the NFL has partnered with the American Cancer Society and has extended its focus to prevention and early detection of several cancers, including breast cancer, with the "Crucial Catch" program.