by Sarah P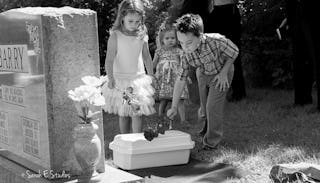 Dear Molly,
Daddy and I first learned about your existence on your older brother, Evan's, 7th birthday. We had been hoping for this moment and were very excited to meet you and for you to be part of our family. The moment we found out, we loved you and started to make plans for our new family of six. You were the missing piece of the puzzle, the completion to our family. The day we got to see you on the ultrasound, your little heart beating away strongly, was a very special day. To see you doing well reassured me and made me even more excited for the day I would hold you.
One of the most amazing days of my life was the day we told your three older siblings that we were having a baby! Evan and Addison started screaming and jumping up and down. Addison even cried, she was so happy. Julia was excited, too, but she was not quite sure what was going on. After that day Addison thanked God and her parents every day for giving her a baby. There was not a day that went by that she didn't say thanks for you. They all three loved kissing my belly and talking to you, it was very special. The love your siblings already had for you took any nervousness Daddy and I had away, we knew it was perfect!
It was so exciting when we got the Doppler out and could listen to the sound of your perfect heartbeat every night as a family. We loved listening to it and talking about our hopes and dreams and plans for you. We were all filled with a love for you that I can't even quantify, and we hadn't even laid eyes on you yet. The night we couldn't find your heartbeat was very scary for me, I was awake all night praying that you were okay and nothing was wrong.
The following day when I got to see your perfect little body on the ultrasound screen, minus the heartbeat you needed to be alive, my own heart shattered. It was the absolute worst day of my life, sweet Molly. It's the day that I learned I would never hold you in my arms, kiss the top of your fuzzy head and breathe in your sweet baby smell, never nurse you, play with you, watch you take your first steps and speak your first words. I wouldn't get to watch your siblings hold you and play with you, see you go to kindergarten, have sleepovers with friends, learn to ride a bike, leave for college or have your own children. In that moment I realized that none of those things would get to happen for you, this little life I already loved so incredibly much. Your Daddy and I were devastated, and to make it even more heartbreaking we had to tell your siblings. It was hard for them too, and I could feel their hurt and pain through their cries and questions. Your Daddy did an amazing job explaining to them that you will always be with us. We were all extremely sad. The one comfort we had was knowing you were our new special angel in Heaven.
Mother's Day was two days after we found out the devastating news. It was a very bittersweet day for me, knowing that it was the last day I would ever carry you. Although I never got to meet you, you will always be my sweet Molly. I love you just as much as the three children I have here on Earth. I'm thankful that on my last day carrying you we took some family pictures. These pictures are incredibly special to me as they are the most tangible thing I have of you. One of them holds a special place close to my heart,on a necklace with your name.
The following days were a blur. Having you taken from me way too soon was crushing. Having your service was also difficult, but a wonderful way to honor your short little life inside of me. I hope you enjoyed your letters and pictures your siblings sent up to heaven after your service. They each picked out the balloons they sent them with and a special rose to place on your grave.
They all miss you dearly, Molly, and talk about you almost every day. Addison tells Julia when it's storming that you are washing your hands in Heaven. They say prayers that God is watching over you and that they hope to meet you someday. They will always remember you and have taught me so much since losing you.
The following weeks were the darkest and saddest days I've ever experienced. All I wanted was to have you back, to have the chance to meet you, hold you, and kiss you. At first I honestly couldn't find any good in what had happened to our family. It was hard to want to take care of your siblings or carry on with my life. I didn't want to, I had lost my baby and I was overwhelmed with grief. Many people don't talk about losing their babies, but I want you to know that I do talk about you. We want people to know you are a part of our family.
Over time, I began to see some good in the bad. I saw the good in the community of people that have helped me through losing you. I saw it come from the love and care your grandmother gave in assuming all of my responsibilities when I couldn't, not once acting like she was tired or that it was a burden. I saw it in so many friends, but especially Laura who was there for me EVERY day from the day we found out we lost you and Sarah who was also there for me and took amazing photographs for us to cherish forever. I also saw the good come from the care and support of my doctor who has helped us through the entire process of losing you and the staff at the hospital that sad day after Mother's Day.
So many people called, emailed, texted, and sent cards and flowers to our family. One of our friends sent us a basket of sunshine the day after we found out we lost you and another gave me a beautiful necklace. Many of these sentiments were from moms who also have angel babies. This showed me that all of these people not only cared about your daddy, siblings, and me but that YOUR LIFE was important as well. Because your life was important to us Molly, no matter how short it was. It is an incredibly heartwarming and a wonderful gift to know so many people care.
I am forever changed by losing you too soon, but I am also thankful for many things that have come from it. I'm thankful for the short time I was given to carry you and love you. I'm thankful for being able to witness the pure joy and excitement in your siblings' eyes as they learned about you. I'm thankful that losing you brought your Daddy and I even closer than before and showed me the incredible bond and strength of our family. I have learned the amazing resilience and faith your siblings have, and I still get to witness the love they have for the little sister they never got to meet. Losing you has taught me to appreciate the little things in life that are often overlooked and to let more of the unimportant things go. It has taught me that it is okay to be sad and to lean on others for support. It has strengthened my faith and reminded me to trust in God even when I can't understand the "why". It has reminded me of the love of a mother and the incredibly strong bond that she has with her children from the very beginning. These are things that I can truly be thankful for that came from you and your short life with us on Earth. I will always think of you and never forget these things you have given me. I love you so much it hurts, Molly Frances, and I look forward to one day holding you in my arms again.
Love, Mommy
All images courtesy of sarahestudios.com
This article was originally published on