To My Wife: My Masturbation Habits Have Nothing To Do With You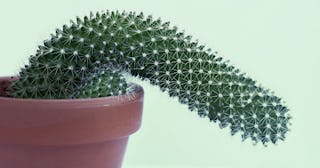 ana gassent/Getty
We recently addressed this topic in our Ask Scary Mommy series ("Ask Scary Mommy: I Think My Husband Masturbates Too Much"). Here is one husband's response to the topic.
Dear Wife:
You are my soulmate, the love of my life, and my best friend. We've been there for each other in times of joy and times of hardship, in sickness and in health, with unconditional love and support. I love you as much now as I did on our wedding day, if not even more. And—you are an exciting, passionate, and creative sex partner. Our sex life is healthy, it's vibrant, and it is deeply satisfying.
So I sense you are wondering: why do I still jerk off? If our sex is satisfying, why do I feel the need to go off and have more sex by myself? Is there some desire, some need, that isn't being met? Though you don't say so, I think you find it vaguely worrying. You feel as if I've got this secret, sneaky solo sex life that you're not a part of—as if masturbation were my illicit part-time lover, a mistress whom you wish you could finally expel from our lives.
I'm a married man, a forty-something father of two, not a sex-starved fifteen-year-old. Do I really need to whack off? Is it really necessary?
Well, no. It's not that I need to. But sometimes I want to. I'll try to express to you why I do.
Ever since I was a teen, I have had moments when my feelings are too much for me, and my brain needs a little break. Sexual feelings can be a part of it, but I'm not just talking about sex. Worry, anxiety, sadness—whatever. Sometimes there's just too much going on and I need a little quiet time, a little "me" time. I discovered early on that, for me, jacking off is the perfect way to clear my head.
A few decades later, it's still something I enjoy. Some people have a glass of wine at the end of the day, or smoke a joint, or at the end of a tough week they'll treat themselves to a mani-pedi or a massage. I masturbate. It's relaxing, all natural, organic, and totally cost-free!
It's clear enough why I wanted to jerk off when I was a teenager or a single guy. But now I have a fun, attractive, sexy partner to get off with. Soo—can't I derive the same benefits from having sex (with you!) that I formerly got from masturbation?
Sometimes, for sure! When you and I are hooking up, my troubles melt away, I experience something like true bliss, and it's all the more special because I'm sharing the moment with you.
But a) we are two different people, and we're not going to be in the mood for sex at the same exact time, every time. You are my partner, but I obviously don't expect you to provide sex on demand whenever I happen to want it. Sometimes you are too tired, too stressed, or just not feeling it. So yeah, I'll slip out of the room, discreetly take care of business, and we can return to our regularly scheduled program.
And b), even if you were magically in the mood whenever I was, I'm not sure partnered sex would ever entirely take the place of masturbation. I'm not sure I'd want it to. Having sex with a partner means connecting with another person, opening up to them, being vulnerable in a way, and also being attentive to your partner's wants and needs. It's responding to the other person, an ongoing back and forth; it's communication. I love that about sex, and I love having it with you. But there are also moments when I'm looking to get off without doing all that communicating. I just want to take a moment for myself—to calm my nerves, and quiet the noise in my head—and jerking off is the most efficient, most reliable way I've found.
Sometimes you want to be with a partner, and sometimes you want to be alone. Aren't most activities like that? I mean, you and I have taken some really nice walks together. We take in the beauty of nature, talk about our life together, and it's a great way for us to bond. That's an unequivocally good thing. But you wouldn't want me by your side every single time you go out for a walk. Sometimes you just want to pop in your AirPods, open Pandora, and take a walk by yourself.
As for my masturbation being illicit or sneaky—I mean, it doesn't have to be. If you want to know what I'm doing, and when and where it's happening, I don't need to do it in secret. If you ever feel like it, you're welcome to cuddle with me while I do it, even if you don't want to participate sexually. On the other hand, I know that when you're not in the mood, you're not in the mood; so I am happy to take care of it on my own—for the sake of privacy, not secrecy.
Maybe you're concerned about what I think about—or who I think about—while I'm doing it. The truth is that I just let my imagination run free. You know how, in meditation, you don't try to control your thoughts? You just let them flow freely, without trying to censor yourself or become self-conscious. So that's sort of what it's like when I'm jerking off. Sometimes I think about you. But yes, other thoughts and other images do pop into my head. An adolescent crush, a magazine I saw when I was 16—or a movie I saw last week. It feels relaxing, even cleansing, to let go of reality a little and let my imagination take over.
What I'm not doing is pining for someone who isn't you, dreaming up an alternate reality where she and I would finally be together. I can understand why that would bother you. If I were planning out a whole extramarital affair in my head, I get why that would make you uncomfortable—even if it never got past the planning stage. But that's not what this is. I'm not building a fantasy life that endures alongside my real life, and leaving you periodically to go back to the fantasy. The thoughts and images that fly through my head are ephemeral, insubstantial. They may be vivid like dreams; but, like dreams, they are easily forgotten.
So yes: I jerk off. I've been doing it for some thirty years, and I don't see it stopping anytime soon. But I never want you to feel that I do it to shut you out or to escape from our life together. Sometimes I do it to cope with anxiety; sometimes, just because it feels good. Either way, I am always glad to come back to you—calm, refreshed, and ever appreciative of my beautiful sexy partner.
This article was originally published on