Your New Favorite Podcast: These 3 Dudes Reviewing Every Hallmark Holiday Movie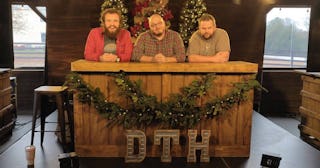 Deck the Hallmark
'Deck the Hallmark' is a hilarious podcast all about Hallmark holiday movies
While we eagerly wait for the newest slate of Hallmark holiday movies to finally arrive, we have a little treat to tide us over: a podcast entirely dedicated to dissecting every single one of them. Three guys watch them all and then weigh in — welcome to your new favorite podcast.
As you probably already know, Hallmark is releasing a record number of holiday movies this season — 40 in all — along with airing your old faves. It's a lot of material to work through, even for the most dedicated Hallmark stans, and that's where Bran, Panda, and Dan come in. They're the three guys behind "Deck the Hallmark," a podcast that reviews and dissects all the Hallmark holiday films.
Now, if you're a fan, you know there are people in your life who just don't understand the wonder and delight that is the adorably predictable, heartwarming, holiday entertainment that Hallmark loyally provides us every season. That means you'll likely totally relate to the dynamic between Bran, Panda, and Dan — Bran is a big fan, Dan is not so much, and Panda is somehow Hallmark-neutral, a stance we had no idea existed. Either you can't get enough of Hallmark holiday films, or you've barely gotten through one — unless you're Panda, apparently.
A little history behind the brilliant idea — Bran tells Scary Mommy that the trio met while teaching at the same private school. He shares that they "hit it off" and "realized that we all had a similar sense of humor." He explains that two of the crew move on to other jobs, but they continued to spend time together and were always looking for ways to have fun as a group. Bran says the pod was basically born out of his desire to watch all Hallmark holiday movies, all the time. "I was driving down the road in April of 2018 thinking about how I wished Hallmark had a year-round Christmas channel," he shares. "I was already ready for the movies to come back on. I seriously love Hallmark Christmas movies."
He says that while he thought about the movies, he wished he could discuss them with some guy friends. "So, I hatched a plan that would force these amazing friends of mine to watch these movies that I love," he says. "This podcast is purely selfish on my part, and I'm ok with that. It just so happened that Panda had a good relationship with the movies, and I knew Dan would hate these movies because he's a film snob. We loved that we could break down these movies from three different perspectives and have a lot of fun doing it.
Instead of being daunted by the upcoming 40 movies to comb through, Bran says the group is nothing but pumped. "We make each other laugh and even though 40 new Hallmark Christmas movies is a bit overwhelming, we're excited!"
So. Are. We. Tune in to "Deck the Hallmark" this October to hear their thoughts on the new movies and while you're waiting, feel free to binge on the 100 episodes they've already recorded.