A Woman Ordered Takeout And Was Sexually Harassed By The Delivery Driver
by Thea Glassman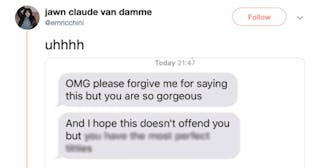 Twitter/@emricchini
A DoorDash delivery person sent gross, creepy text messages to a woman he delivered food to
Today in repulsive news: a woman ordered takeout and was subjected to sexual harassment via text message by the delivery driver. E.M. Ricchini, a writer based in Philadelphia, took to Twitter to share the deeply gross, deeply inappropriate messages that she received from a DoorDash delivery person. Because apparently women literally cannot have one place of sanctity and safety.
Ricchini took to Twitter to post screenshots, which showed the delivery person's text messages to her. They read: "OMG please forgive me for saying this but you are so gorgeous. And I hope this doesn't offend you but you have the most perfect titties."
Feeling like you want to throw up and throw your computer out the window in a fit of rage? Yup, same page.
Quite understandably, Ricchini felt completely freaked out and very on edge. Not only had she been sexually harassed and grossly objectified by someone but it was by someone who knew where she lives. "Like honestly. i can't even eat my FUCKING pizza fries in my own home without some piece of shit man making me feel uncomfortable and unsafe," she tweeted.
To make matters all the more worse? Ricchini added that the company wasn't responding appropriately to her very serious complaint.
"I barely slept because i felt so violated in my home and all @DoorDash_Help could do was send a canned email response after ghosting me on messages on here. they do not care if the end user is safe or happy, as long as they have their $."
When Ricchini first filed a complaint with DoorDash, she received an automatic message saying that they would "flag this correspondence," send it to the appropriate team, and assured her that they regularly review customer complaints.
Twelve hours later, she told Jezebel that she received the following email from the company: "We do not condone this type of action and have therefore taken the step in removing them from our platform — they will no longer be able to deliver future orders on DoorDash."
Her story had people on Twitter horrified and sharing their own negative experiences with delivery services and apps. One Twitter user shared a screenshot from a DoorDash delivery person who harassed him over a poor rating, calling him gay and threatening him.
https://twitter.com/jetpack/status/1126977142795972613
This is all especially frustrating and terrifying because everyone should be able to order takeout without worrying about being harassed by an employee who has access to their telephone number and home address. Nobody (read: especially women) should be made to feel unsafe when they order food to their home, which is a normal and regular part of the existence of most human beings.