Nightmare Flight Makes Emergency Landing That Sends 3 People To The Hospital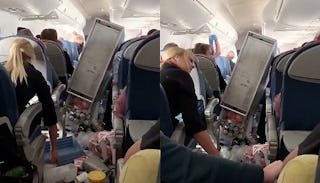 Image via Twitter/Joe Justice
This nightmare flight nose dived twice and then made an emergency landing
Here's a horrific airplane story to haunt every single person's dreams. A Delta flight experienced such severe turbulence that it nose dived, made an emergency landing, and three people were taken to the hospital.
The flight took off from Orange County, California and was headed towards Seattle on Wednesday afternoon. Intense turbulence caused the airplane to "nose dive, twice," Joe Justice, a passenger on the flight, wrote on Twitter.
The beverage cart completely flipped over and its contents were strewn everywhere. "We just saw the drink cart go up in the air," Dave Macias, another passenger, told Fox News. "The flight attendant was tossed around like a rag doll. It was wild."
Lori Badilla added to Komo News that it was "awful" and felt like everyone was "dying." "I thought it was the end," she said.
As you can see from the footage below, it was completely terrifying mayhem. Justice emphasized that the crew handled the situation "perfectly," even throughout their emergency landing.
Justice posed a few more snapshots from the afternoon and offered his thanks to an amazing crew, which he clarifies was actually from Compass Airlines. "More photos of the insane turbulence on DL5796 today, operates by @Compassairlines," he wrote. "My deep gratitude and professional respect for the flight crew. I mis-attributed my congratulations to @Delta, who very well may also be awesome, but this heroism was @Compassairlines crew."
One of the passengers was captured on cell phone video with a bandage on her head, covered with blood, according to Komo News. "She was in the ladies' room when she hit the big dip and her head hit, she came out bleeding," Erin Kayser, who was also on the plane, said. "I was sitting towards the back of the plane and I saw the drink cart hit the ceiling along with the flight attendant."
The plane thankfully managed to safely land in Reno, Nevada. In a recording to air traffic control, the pilot explained: "We are an emergency aircraft, numerous injuries, we do not have the number of how many injuries, my understanding is that we have two flight attendants who may be incapacitated with several passengers."
Five passengers were hurt and three were transported to the hospital, according to Fox News. The rest of the people on the flight were treated to pizza and soda while they waited for their next plane. A few spoke to Komo News and expressed their relief and gratitude that they had landed safely.
"It was scary at first you know but I'm just glad we're home," Kayser said. "It was just a long day."
This article was originally published on