Mom Risks 2 Weeks Worth Of Breastmilk When Delta Employees Don't Know TSA Guidelines
by Maria Guido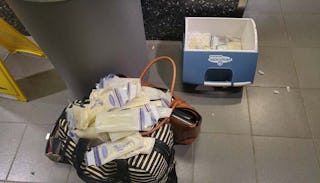 Delta employee's lack of knowledge of TSA guidelines made one breastfeeding mom's trip a total nightmare
A Texas mom is furious after being forced to risk spoiling over two weeks worth of pumped breastmilk because Delta's own employees were unfamiliar with the protocol of traveling with dry ice. Vanessa Kasten Urango consulted with Delta before her trip to be sure she was packing her frozen breastmilk right, to avoid any hassle at the airport. Unfortunately, meticulously planning ahead and following Delta's own protocol wasn't enough to prevent this mom from dealing with an epic shit-show when she tried to board.
She posted the details of her interaction in an open letter to the company on her Facebook page. According to Urango, a week before her departure she contacted Delta to inquire about the best way to travel with frozen breastmilk. She was told to pack it with dry ice in a cooler and check it at baggage claim. They specified that the dry ice content had to be under 5.5 lbs and the outside of the container had to be labeled. She made a special trip to purchase the cooler and stuff she would need to label it. She also traveled to a dry-ice vendor the day of her trip to get what she needed to keep her milk frozen.
When she got to the ticket counter at Newark International Airport in New Jersey, she was told she'd need to pay an additional $150 to check the cooler because she already had two checked bags. The checked bag fees listed on Delta's site are $25 for the first bag and $35 for each additional bag, so this seems arbitrary. The agent at the counter was not very helpful: "he had no idea how to handle my cooler with dry ice. In fact, he acted irritated by it, and got two other agents involved. To say they were rude and completely lacking empathy is an understatement."
The agents ended up telling Urango that she couldn't travel with the cooler because they couldn't weigh the dry ice and because she didn't have the proper sticker on it to show that it contained dry ice, even though she was told beforehand to just get tape and markers and label it that way (which she did). "I asked them where I could find such a sticker, and they just shrugged with complete apathy," she writes. "I explained that I brought tape and markers specifically for this; I just needed to know how to label it. They had no response."
Very helpful. They then told her she needed to dispose of the contents of the cooler, but she couldn't do it at the airport because of the dry ice. Is your head spinning yet? She left the two completely unhelpful ticket agents and finally found some airport police who were sympathetic and instructed her to dispose of the dry ice in an airport bathroom and board the flight with the cooler filled with breastmilk without the cooling agent. So she basically had to just hope at that point the 18 days worth of breastmilk she'd pumped would still be good after her eight hour trip. Here's what 18 days worth of liquid gold looks like:
Can you imagine having to risk all that? Simply because airline employees didn't know TSA rules regarding breastmilk? According to the Transportation Security Administration, formula and breast milk are exceptions to the 3.4 ounce of liquid limit per carry-on item. From the TSA's own guidelines:
"Formula, breast milk and juice in quantities greater than 3.4 ounces or 100 milliliters are allowed in carry-on baggage and do need to not fit within a quart-sized bag. Separate formula, breast milk and juice from other liquids, gels and aerosols limited to 3.4 ounces.
Ice packs, freezer packs, frozen gel packs and other accessories required to cool formula, breast milk and juice are allowed in carry-on."
Urango bought a separate cooler, labeling items, dry ice — all things she was told to do, only to get to the airport and be met with unhelpful employees unwilling to do their job. Yes, a ticket agent's job is checking customers in and helping them. This situation is beyond ridiculous. It would've been one thing if she'd come completely unprepared. She didn't.
Delta issued an apology to Urango and gave her a $150 voucher. As for her breastmilk, most of it survived the trip. Urango says,
"A Delta rep contacted me via phone and acknowledged that employees should have been aware of Delta's dry ice policy and acted incorrectly. She promised They are going to look into the matter. They are sending me $150…better than nothing but still a long way to go toward making traveling a pleasant, hassle free experience for BF moms and anyone traveling with children."
A long way to go indeed.