Delta Variant Likely To Cause Outbreaks In States With Low Vax Rates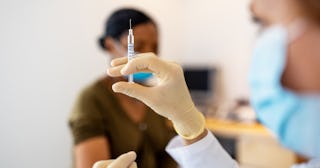 Luis Alvarez/Getty
Health professionals warn the Delta strain of Covid-19 could be more transmissible and dangerous than others
It's not over, folks. As COVID vaccinations continue to roll out nationwide, the very real threat of a new outbreak of the Delta variant of COVID-19 looms over areas with a low vaccination rate.
CNN reports Dr. Scott Gottlieb, former commissioner of the US Food and Drug Administration, warned of the risk. "It's not going to be as pervasive," said Gottlieb. "It's going to hyper-regionalized. There's certain pockets of the country where you're going to have very dense outbreaks."
Overall, evidence suggests that the US is equipped with effective tools to counteract Delta's spread.
The UK is about a month or two ahead of the US when it comes to the spread of the Delta variant, Gottlieb told CBS. It means that the US has some data to make predictions about a possible outbreak before it happens.
Dr. Jonathan Reiner told CNN the Moderna and Pfizer/BioNTech vaccines are about 90% effective in preventing illness and 94% effective in preventing severe illness and hospitalization, based on the data from the UK.
"The problem is we don't have the same data for the Johnson & Johnson vaccine in the US," he added.
The single-dose vaccine has been administered to about 12 million people, but health experts have yet to measure its protective effect against the Delta strain of the virus. It is hoped that the CDC will answer questions concerning Johnson & Johnson's effectiveness and what response those who received that vaccine should take to protect themselves against the variant.
The conventional wisdom is that the Delta variant could wreak havoc on areas with low vaccination rates and low rates of prior infection, Gottlieb said, noting areas like rural and southern communities are vulnerable to the outbreak.
CNN reports 46.1% of the total US population has been vaccinated against Covid-19, while Alabama, Arkansas, Louisiana, Mississippi, and Wyoming are among the states with the lowest vaccination rates. Those areas have less than 35% of their population fully vaccinated.
The numbers are a disappointment to public health officials. The US would need to have a 70-85% immunity rate either through vaccination or prior infection to control the virus' spread, and with vaccine rates dropping, some officials worry that the US will not reach the threshold.
Gottlieb urged governors to build up health care resources in vulnerable communities and leaders to launch grassroots vaccination campaigns in the fall.
"People who are going to be convinced to get vaccinated by Tony Fauci, or the surgeon general — or me for that matter — probably are already vaccinated," Gottlieb admitted. "We need to get vaccines into the hands of doctors, make it easier for doctors to supply vaccines in their offices."
Gottlieb hopes that some unvaccinated Americans will eventually make the decision to get vaccinated as they return to work and schools in the fall, despite slow vaccination rates.