We Need To Demand Gun Violence Prevention Legislation, And Here's How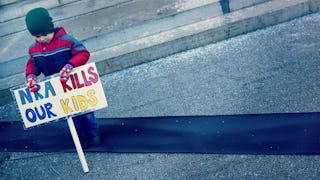 Spencer Platt / Getty Images
I am sickened, disgusted, and fed up. I call my legislators every day, and nothing changes. The NRA blood money keeps buying inaction. I lost it with the staffers today.
On Monday, I've decided to become really scary. Here's my plan:
I'm going to call and tell them my name, address, and phone number as usual. I'm going to tell them I'm a second-grade teacher in Alpharetta, Georgia, and a mother of three. I'm going to sprinkle in all the niceties of living here. Then I'm going to ask sweetly and calmly what the senator/representative/governor is going to do now to propose, push, and sign gun violence prevention legislation into law? What are they going to do to end the carnage and slaughter of innocent Americans by weapons of war?
Then I'm going to explain to them what I have done in my two jobs since Sandy Hook.
I will tell them that I practice intruder drills with my 7- and 8-year-old students, sheltering them in a bathroom in case of an active shooter; I teach them to be silent and sweet and calm and patient. I will tell them that my first job is to keep these kids safe and send them home to their families every afternoon. I will tell them that I turn the fan on in the bathroom every time so it won't get too sweltering hot and will also muffle the sounds of fear the kids may make in a real active shooter situation. I will tell them that I keep Tootsie Pops in my emergency backpack to calm the kids and keep them quiet in order to save their lives. I will tell them that I keep beautiful picture books in that backpack and flashcards with calming images and words in case those are the last things they'll see, hear, or think about. I will tell them that I stand against the door so that my body will be between these children and potentially lethal harm.
I will tell them that I teach my own kids to be silent and still in their own drills because their lives may depend on it. I hope that their teachers have the best possible plan for their classrooms.
I will tell them that I get a lump in my throat when I think about a shooter in our school, knowing I will be protecting other people's children and not be able to protect my own.
I will tell them my elementary school received a shooter threat a few years ago that brought the SWAT team and a three-hour lockdown. I wasn't even there, yet I had nightmares afterward.
I will tell them about taking my 8-year-old to the country fair concert at Verizon Wireless Amphitheater to accept an Atlanta Teacher Award from Kicks 102.5, the local country station last month. I will tell them how exciting it was being brought up on stage to be presented with the award. I will tell them how my heart dropped when news of the horror in Las Vegas unfolded, realizing that could have been us, here. That I could have brought my son to his death.
If they haven't hung up, I will tell them that I have done my part as a mother and a teacher. I will tell them that our senator/representative/governor has done nothing!
I will call back the next day. I will call the day after. I will keep doing my jobs and insist that they do theirs too.
#bloodontheirhands
Call and DEMAND Gun Violence Prevention Now (844-USA-0234) and donate Moms Demand Action for Gun Sense in America here.