Demi Lovato Slammed A Body-Shaming Ad – And Swift Action Was Taken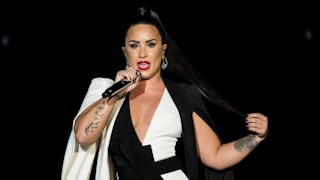 Image via Pedro Gomes/Redferns
Demi Lovato spoke out against an offensive, body shaming Instagram ad
There's a lot of reasons to love Demi Lovato (the release of the epic "Sorry Not Sorry" being one of them). Here's yet another. Lovato recently spoke out against an awful body-shaming ad on Instagram and the social media platform swiftly took it down.
Finally, an internet moment we can all applaud.
Lovato took to Instagram over the weekend to share a completely repulsive ad for the video game "Game of Sultans." It showed a picture of a curvy woman with the caption "obese" and a picture of a slim woman with the caption "pretty." Yup, I'm currently rolling my eyes to the back of my head, too.
"Why is this fat shaming bullshit on my feed? So many things wrong with this ad. You can be 'pretty' at any weight," Lovato wrote.
The singer went on to explain all of the ramifications that an ad like that can have on someone struggling with their body image.
"This is absolutely harmful to anyone who is easily influenced by societal pressures put on us from the diet culture to constantly be losing weight in a world that teaches us to equate our value and worth with the way we look and especially anyone in recovery from an eating disorder," Lovato wrote.
She then pointed a finger directly at Instagram, and asked them to keep these gross ads off of everyone's feeds. "With how aware people are becoming of mental health and mental illnesses, I expect you guys to know better by allowing this advertisement to be allowed on your app," she wrote. "And shame on the game."
The social media platform took action after Lovato spoke up. "We're sorry," a spokesperson from Instagram told TODAY. "This ad was approved by mistake. We reviewed it again and removed it from future delivery in people's feeds."
Okay, so, that's great and all but shouldn't Instagram have a better screening process for their ads? And did they only take this particular ad down because a powerful, influential celebrity spoke out? Color me skeptical.
Meanwhile, this is one of the many, many times that Lovato has fiercely and candidly discussed body shaming. The singer has been public about her own struggles with an eating disorder and taken her fans on her intimate path towards recovery. Last January, she posted a picture of herself in a bathing suit and shared how far she had come.
"Learning to love my body the way it is is challenging but life changing. Giving up my eating disorder has been the most challenging journey of my life but I work every day towards solid recovery even if I mess up sometimes," the singer wrote. "…Today I'm feeling strong. You all can do it too. It IS possible."
https://www.instagram.com/p/Bdh2TJnlnWa/?utm_source=ig_embed
All the applause to Lovato for continuing to be honest, strong, and outspoken about things that really matter. Hopefully, she's scared Instagram into being extra, extra careful about the sort of ads they publish.
This article was originally published on