Demi Lovato Shares Pictures Of Her Cellulite: 'I Still Love Myself'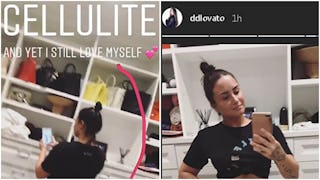 Image via Demi Lovato/Instagram
Demi Lovato is all about self-love
It's so, so easy to fall down a rabbit hole of scrutinizing every tiny detail of your body and wishing things looked a little firmer, tighter, and more toned. Well, prepare to get very much schooled by Demi Lovato. The singer shared her own "imperfections" online and paired them with a simple, inspiring message.
Lovato took to Instagram to post a few snapshots of her body in various stages of undress. Each picture pointed out a different so-called "flaw" (cellulite, stretch marks, lack of thigh gap), accompanied by the comment: "I still love myself."
Basically, she's here to school us all in Self Acceptance 101. Loving yourself is a really important message to remember…ESPECIALLY when you're in a fitting room, where the lighting is never forgiving. Also equally important to remember: literally everyone has stretch marks at this point, right? It's like a rite of passage. I truly don't believe cocoa butter even works.
Lovato has been very open about her struggles with an eating disorder and her ongoing quest for self-love. The singer shared a picture of herself in a bikini last January, and declared that she was letting go of her perfectionism and "embracing freedom from self criticism."
"Giving up my eating disorder has been the most challenging journey of my life but I work every day towards solid recovery even if I mess up sometimes," she wrote. "Today I'm feeling strong. You all can do it too. It IS possible."
https://www.instagram.com/p/Bdh2TJnlnWa/?utm_source=ig_embed&utm_campaign=embed_profile_upsell_logged_in_control
Can we all just hire Demi Lovato as a personal life coach and just call it a day? Or, alternatively, go blast her song "Sorry Not Sorry" and shake that non-thigh gap all the way to the living room dance floor.
This article was originally published on