Demi Lovato Reminds The Media She's More Than Her Weight
by Christina Marfice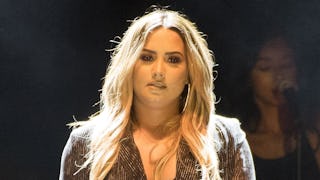 Image via C Flanigan/Getty Images
Demi Lovato is not here for diet culture, and she's an inspiration for it
I think on some level, we all know women deserve to be recognized for their accomplishments, their leadership, their skills, their talents — anything but their weight. Yet, in our diet obsessed culture, that's not always how it goes. More and more celebrities are taking a stand over how the media portrays their bodies and their worth, and Demi Lovato is just the latest.
The "Sorry, Not Sorry" singer is definitely #SorryNotSorry for calling out The Inquisitr in her Instagram story for a headline that remarked on her "fuller figure."
"I am more than my weight," Lovato wrote, in all caps.
She then continued, "Unlike in the past, I'm not triggered, I'm not upset that someone wrote a headline about my 'fuller figure.' I'm angry that people think it's OK to write headlines about people's body shapes. Especially a woman who has been so open about being in recovery from an eating disorder. I'm not upset for myself but for anyone easily influenced by the diet culture."
On another page of her story, she shared a message to fans who might be affected by the kind of talk that headline embraced.
"Too many people today base their ideal body weight off of what OTHERS tell us we should look like or weigh. Articles like these only contribute to that toxic way of thinking," she wrote. "If you're reading this: Don't listen to negative diet culture talk. You are more than a number on a scale. And I am more than a headline about my body shape."
A-freaking-men.
Women need to hear this kind of message, because we are absolutely more than our bodies, more than our weight. But society is constantly telling us the most important thing we can do is be thin and beautiful. It creates a culture of women feeling like they're never good enough, like they have to always be striving to reach some next level of perfection. And to be honest, it's bullshit.
Demi Lovato has been speaking out against this kind of crap for as long as she's been in the spotlight. She's made headlines for posting pictures of her cellulite and letting the world know she loves herself despite it (something that shouldn't be radical). And early this year she mobilized her followers against a gross, fat-shaming ad on Instagram and got the ad removed. She truly practices what she preaches with this stuff.
Her story got the attention (and support) of another celeb who fights constantly to spread body positivity in the world, Jameela Jamil. She posted to Instagram to support Demi Lovato, calling her "a source of strength and light," which could not be more true.
It's 2019, and it's high time we all stopped giving diet culture any space in our society. Women are worth more than their looks or their weight, and we need to celebrate the things about us that actually matter, like who we are as people.
This article was originally published on