Demi Lovato Hospitalized After Apparent Overdose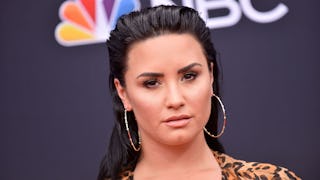 Image via LISA O'CONNOR/AFP/Getty Images
After suffering an apparent overdose, Demi Lovato is reportedly 'okay and stable'
The Los Angeles Police Department has confirmed Demi Lovato has been hospitalized after suffering a possible heroin overdose.
Lovato's hospitalization has been confirmed by LAPD officer Ray Brown, who says authorities responded to a call from a Hollywood home in the neighborhood where Lovato lives. She was administered Narcan, an emergency medicine used to reverse the effects of a narcotic overdose. A source tells PEOPLE she is currently "okay and stable."
This heartbreaking news comes just one month after Lovato released her latest single, "Sober," where she admits in the lyrics to suffering a relapse after six years of sobriety: "Momma, I'm so sorry I'm not sober anymore/And daddy please forgive me for the drinks spilled on the floor.…To the ones who never left me/We've been down the road before/ I'm so sorry/I'm not sober anymore."
In the song, Lovato promises to seek help, and apologizes for "being here again." She's someone who has always been candid about her struggles with addiction and mental health, which is one of the reasons fans everywhere love her so much.
Since news of her hospitalization broke, the singer's friends, colleagues, and fellow celebrities have offered their heartfelt well-wishes and messages of support.
Earlier this year, Lovato told Good Morning America how strongly she feels about using her voice for more than just singing. "I just know how important it is to use my platform to help others and to share my story in hopes it inspires people to either get into recovery or better themselves," she said. "Whatever it is, I just want people to know they're not alone and I'm here for them."
Until further details are reported, we're keeping Demi Lovato and her family in our hearts.
This article was originally published on