Demi Lovato's Latest Selfie Is A Testament To Strength And Self Love
by Thea Glassman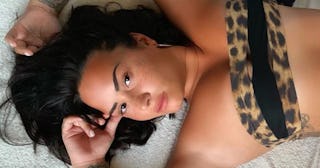 Demi Lovato via Instagram
There's a powerful, empowering message on Demi Lovato's Instagram
Demi Lovato is feeling sexy, empowered, and confident. The singer took to Instagram to share a picture of herself rocking the hell out of a bathing suit, alongside an inspiring update on her life right now.
Lovato posted a snapshot of herself after her jiu jitsu class and explained why the image is so important to her.
"I'm sweaty and not looking this glamorous right now but fuck I feel awesome and posting this feels empowering because I like this pic where I feel sexy and I can also defend myself from anyone that ever tries to attack me," she wrote.
Lovato added that she can now take on anyone who might try to cause her harm, no matter what their size, shape, or gender is. "I have security but in the moments I'm alone I feel confident (no pun intended) that I can hold my own against an attacker," she wrote, "and hope everyone finds something they become as passionate about as I feel about jiu jitsu."
This is so great on two different levels. 1) Feeling like you can protect yourself is a powerful, incredible feeling. 2) Seeing Demi Lovato feeling healthy and happy and whole is just all kinds of wonderful.
The singer hasn't spoken much about her alleged overdose this past summer but she did take to Twitter in December to thank everyone for their support and love.
"I'm so blessed I get to take this time to be with family, relax, work on my mind, body and soul and come back when I'm ready," she wrote. "I have my fans to thank for that. I'm so grateful, truly. I love you guys so fucking much thank you."
These days, it looks like she is training hardcore in jiu jitsu and literally knocking teeth out as she goes (#sorrynotsorry).
Oh yeah, and she also went to Bora Bora and took some truly fire beach pictures (note to self: might need to invest in a cheetah print bathing suit?)
https://www.instagram.com/p/BxVRUnJBF1F/
Here's to Demi Lovato feeling all kinds of good and strong and powerful. And here's to all of us immediately googling where the closest jiu jitsu class is.