Demi Lovato Shares Pic She's 'Insecure' About To Make A Point About Recovery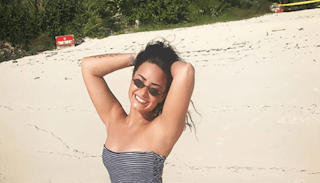 Image via Demi Lovato/Instagram
Demi Lovato made an important point about recovery
Demi Lovato continues to be a fierce, outspoken advocate for self-love and mental health awareness. The singer, who struggled with an eating disorder, shared a picture of herself in a bathing suit — and penned a powerful message along with it.
"So, I'm insecure about my legs in this picture but I'm posting it because I look so happy and this year I've decided I'm letting go of my perfectionism and embracing freedom from self criticism," Lovato wrote on Instagram.
https://www.instagram.com/p/Bdh2TJnlnWa/
"Learning to love my body the way it is is challenging but life changing," she wrote. "Giving up my eating disorder has been the most challenging journey of my life but I work every day towards solid recovery even if I mess up sometimes."
The singer signed off her post with the hashtags #EDrecovery and #happyAF.
https://www.instagram.com/p/Bakdkiglahs/?hl=en&taken-by=ddlovato
Lovato has been candid about her battle with bulimia, and spoken honestly about her bumpy road to recovery.
"When I was in a relationship with [Wilmer Valderrama] I went three years without purging and when we broke up that's one of the first things I did," she admitted during an interview for her YouTube documentary Simply Complicated. "The less I have to think about food, the easier it is to go about having a normal life and I don't want to let anybody down so when I do have moments when I slip up, I feel very ashamed."
The singer continues to share her struggles publicly, not because it's easy, but because she hopes to shed light on the complicated, ongoing journey of overcoming an eating disorder. "It was really hard to talk about on camera," Lovato told Teen Vogue. "but I knew that if I was honest, it would help somebody understand. Sometimes I'm not perfect with my recovery and my eating issues, but I keep fighting. And I want people to see that."
https://www.instagram.com/p/Bcq7y7nlTPI/?hl=en&taken-by=ddlovato
She also wants her fans to understand that progress (however slow) can happen.
Back in October, she shared a side-by-side picture of herself, showing her progression before treatment and after treatment. "Recovery is possible," Lovato wrote.
So much applause for Lovato's honesty, and for sharing her rocky, complex, important journey towards self-acceptance.