Demi Lovato Posts Unedited Bikini Pic And Body-Positive Message About Cellulite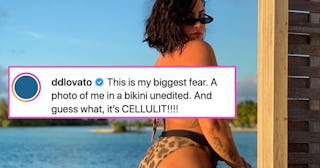 Demi Lovato/Instagram
Demi Lovato is the body positive queen you need to start your morning
You know when you wake up on a Friday morning and settle in with your first cup of coffee and do a quick scroll through Instagram, and you see something so beautiful it about makes your eyes pop out of your head? That was us this morning when we saw the photo Demi Lovato posted last night.
It's her. In a bikini. Unedited. Looking fierce and beautiful and real, cellulite and all. We are so here for this.
In the caption, Demi explained that it's her "greatest fear" to post a bikini photo unedited, but that she's done with letting fear control her, her body, and her life. A-freaking-men to that!
"I'm just literally sooooo tired of being ashamed of my body, editing it (yes the other bikini pics were edited – and I hate that I did that but it's the truth) so that others think I'm THEIR idea of what beautiful is, but it's just not me," she wrote. "This is what I got. I want this new chapter in my life to be about being authentic to who I am rather than trying to meet someone else's standards. So here's me, unashamed, unafraid and proud to own a body that has fought through so much and will continue to amaze me when I hopefully give birth one day."
She went on to say that she's happy to be back to work "while not stressing myself with a strenuous workout schedule before 14 hour days, or depriving myself from a real birthday cake rather than opting for watermelon & whip cream with candles because I was terrified of REAL cake and was miserable on some crazy diet shit." She also brought the body-positive affirmations we love her for. "Anyway, here's me, RAW, REAL! And I love me. And you should love you too! Now back to the studio.. I'm working on an anthem.. 🙏🏼🙌🏼🤷🏻‍♀️ also. Just so everyone's clear.. I'm not stoked on my appearance BUT I am appreciative of it and sometimes that's the best I can do. I hope to inspire someone to appreciate their body today too."
Demi has been very open throughout her career about being in recovery from an eating disorder and the hard road it can take to love your body. While it breaks our hearts a little that posting this absolutely beautiful photo was her greatest fear, we're so glad she's overcome that because it's absolutely inspiring. Everyone is somewhere on this journey, and Demi just took a big step further down that road. Bless her for inviting us all along to see it happen.
This isn't the first time Demi has bared her cellulite on social media — she shared a bunch of photos on her Instagram stories last year while she basically took us all to school for a class on loving your body's so-called "flaws." And she's been pretty vocal about her disdain for the diet culture that's designed to continuously make us feel bad about ourselves, even going so far as to call out media outlets who write about her weight. As she should, because her body isn't a damn headline. It's just her body, and it's amazing however it looks.
So, folks, let's get on with this Friday, and remember whenever you look in the mirror today, in the great words of Demi Lovato, you are cellu-LIT.
This article was originally published on