Demi Lovato Shares New Outlook On Dieting And 'Food Shaming'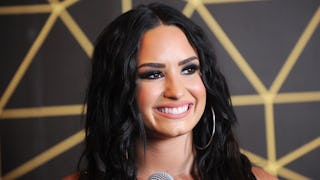 Image via Brad Barket/Getty Images for iHeartMedia
Demi Lovato is giving up dieting for her fans
Platinum recording artist Demi Lovato announced that she's done with dieting, and we couldn't be happier for her.
There's a lot of pressure for women in Hollywood to maintain a certain weight, which is ridiculous since the average American woman wears a size 16, so it's great to hear that the former Disney star is pushing back in her own way. During the month we usually reserve for shaming ourselves into another diet, gym membership, or 6 a.m. yoga class all in the name of resolutions for the new year, Lovato is saying nope. Instead, she's embracing her body as it is and encouraging others to do the same.
She took to Twitter to share her new eating plan. "No longer depriving myself of treats (in moderation)," Lovato writes. "I'm not gonna lie, I put on a couple lbs since I've given up dieting BUT I've given up the chronic stress of what I eat because I don't want to set that example for my fans. No more food shaming myself!!"
Her tweet quickly went viral because it resonated with so many. Who hasn't stressed themselves out over meal planning for the week? Or ate great all week but still shamed themselves on cheat day?
Lovato's message is also inspiring because she's long had a complicated relationship with food. She struggled with eating disorders and finally found some relief after being diagnosed with bipolar disorder. But it's very common to relapse after the recovery process has started, which happened to Lovato. In her documentary Simply Complicated, the singer told her manager she had been binging and throwing up afterward during the summer. Lovato remains transparent about setbacks in the hopes that her honesty will help even one person experiencing struggles with food.
https://www.instagram.com/p/Bdh2TJnlnWa/
Just two weeks ago she shared another motivating message about being body positive on Instagram. The photo shows her on a beach and the singer wrote: "So, I'm insecure about my legs in this picture but I'm posting it because I look so happy and this year I've decided I'm letting go of my perfectionism and embracing freedom from self-criticism."
Hopefully, eliminating dieting will only aid the superstar in her efforts. "Learning to love my body the way it is is challenging but life-changing," she said of the journey to self-acceptance.
H/T Seventeen
This article was originally published on