Demi Lovato Opens Up About Recovery: 'I Am Grateful To Be Alive'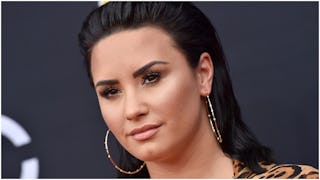 Image via Axelle/Bauer-Griffin/Getty
Demi Lovato is opening up about her recovery – and setting the record straight on tabloid rumors
Demi Lovato is speaking out about her overdose this past July, and sending an important update about her recovery. The singer warned the public not to believe the gossip they read about her health and that she will be the one to share her story when she's ready. Just as it should be.
Lovato began by explaining that a lot of the junk that tabloids print isn't true. "I love my fans, and hate tabloids," she wrote on Twitter. "Don't believe what you read. People will literally make up stuff to sell a story. Sickening." If she wants the world to know something about her life, she noted, she will say it herself. Otherwise, it's no one's business.
"I am sober and grateful to be alive and taking care of ME," Lovato said.
https://twitter.com/jetpack/status/1076304848134430722
Mostly, Lovato just wants privacy, which is something she shouldn't even have to ask for. Peace and respect during the recovery process should be taken for granted.
"Someday I'll tell the world what exactly happened, why it happened and what my life is like today.. but until I'm ready to share that with people please stop prying and making up shit that you know nothing about," she said. "I still need space and time to heal.."
https://twitter.com/jetpack/status/1076306457711206400
https://twitter.com/jetpack/status/1076307274866450433
For now, Lovato wants everyone to know is that she's working on her health…and that's the only information necessary at the moment.
"I would love to set the record straight on all the rumors out there but I literally don't owe anyone anything so I'm not going to. All my fans need to know is I'm working hard on myself, I'm happy and clean," she explained.
Also, she's really, really grateful for everyone's support. Lovato thanked her fans for affording her the privilege to recover on her own schedule.
"I'm so blessed I get to take this time to be with family, relax, work on my mind, body and soul and come back when I'm ready," Lovato concluded. "…I love you guys so fucking much. thank you."
https://twitter.com/jetpack/status/1076309102731513856
https://twitter.com/jetpack/status/1076310706134249473
Here's hoping that Lovato gets to recover peacefully and privately from now on. In the meantime, we'll be listening to her songs on repeat, wishing her all the best.