Demi Lovato Reveals Relapse After 6 Years Of Sobriety With New Song 'Sober'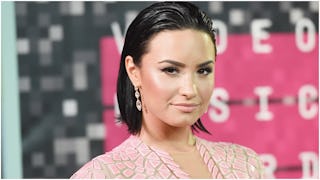 Image via Jason Merritt / Getty
Demi Lovato opened up about relapsing in new single
Demi Lovato just released a candid song about the rocky road to recovery. The singer opened up about breaking her six years of sobriety in the new single "Sober" — and it's a heartbreakingly honest song.
Last March, Lovato stood on a stage in front of fans and celebrated a milestone in her sobriety. "Six years ago, I was drinking vodka out of a Sprite bottle at 9:00 in the morning, throwing up in the car," she said. "And I just remember thinking, 'This is no longer cute. This is no longer fun.' So I took a look at my life and I said, 'Something has to change, I've got to get sober.' So I did."
Now, the singer is opening up about her recent relapse. "Momma, I'm so sorry I'm not sober anymore/And daddy please forgive me for the drinks spilled on the floor," Lovato belts in her single "Sober." "…To the ones who never left me/We've been down the road before/ I'm so sorry/I'm not sober anymore."
The singer goes on to promise that she's going to get help, and apologizes for "being here again."
The Twitterverse quickly exploded with encouragement and love for the singer, because thankfully every now and then, social media can actually be a really, really nice place.
This isn't the first time that the singer has opened up about her private life.
Lovato has been vocal about her mental health struggles and spoken candidly about being diagnosed with both bipolar disorder and an eating disorder. Despite all the challenges in her life, the singer's Instagram posts offer honest, thoughtful, and positive messages about self-care and acceptance. She posts pictures of her body with a newfound pride, and reminds her fans to love themselves, imperfections and all.
In case it wasn't already evident, Demi Lovato is truly a strong, inspiring gem.
https://www.instagram.com/p/Bdh2TJnlnWa/?utm_source=ig_embed
The singer told Good Morning America that she wants to use her influence to help people who are also struggling.
"I think that it's important that I use my voice for more than just singing and I just know how important it is to use my platform to help others and to share my story in hopes it inspires people to either get into recovery or better themselves," she said. "Whatever it is, I just want people to know they're not alone and I'm here for them."