Demi Lovato Speaks Out For The First Time Since Overdose
by Jerriann Sullivan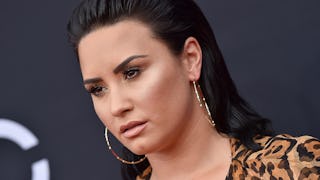 Image via Axelle/Bauer-Griffin/FilmMagic
Demi Lovato speaks out on Instagram after overdose
Demi Lovato has spoken out for the first time since her overdose last month. The singer took to Instagram to address her fans directly with news on her sobriety and struggles with addiction.
"I have always been transparent about my journey with addiction," she wrote. "What I've learned is that this illness is not something that disappears or fades with time. It is something I must continue to overcome and have not done yet."
https://www.instagram.com/p/BmHH69KlY3L/?taken-by=ddlovato
Last month, the Los Angeles Police Department confirmed Lovato was hospitalized after a possible heroin overdose. LAPD officer Ray Brown told the media that Lovato was given Narcan, which medical professionals use to reverse the effects of an overdose from narcotics. She was then admitted to Cedars-Sinai Medical Center in Los Angeles.
"I want to thank God for keeping me alive and well. To my fans, I am forever grateful for all of your love and support throughout this past week and beyond," Lovato wrote. "Your positive thoughts and prayers have helped me navigate through this difficult time," she added. The singer has long been open about her struggles with mental health and addiction. In June, she released a song titled "Sober" about relapsing after six years of sobriety. "Momma, I'm so sorry I'm not sober anymore/And daddy please forgive me for the drinks spilled on the floor," Lovato admits in her song "…To the ones who never left me/We've been down the road before/ I'm so sorry/I'm not sober anymore." In the song, she promises to get help and apologies for relapsing on her road to recovery.
Despite dealing with the trauma of overdosing, Lovato has kept her promise to stay open and honest with her fans. "I think that it's important that I use my voice for more than just singing and I just know how important it is to use my platform to help others and to share my story in hopes it inspires people to either get into recovery or better themselves," she has previously said. In her Instagram message, she went on to thank the folks who have helped during her recent relapse. "I want to thank my family, my team, and the staff of Cedars-Sinai who have been by my side this entire time. Without them I wouldn't be here writing this letter to all of you," she wrote.
"I now need time to heal and focus on my sobriety and road to recovery," Lovato added. "The love you have all shown me will never be forgotten and I look forward to the day where I can say I came out on the other side. I will keep fighting."