Demi Lovato Reveals She Has Brain Damage After Overdose
by Christina Marfice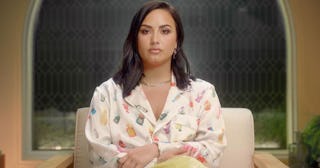 Demi Lovato/Instagram
In the first trailer for her YouTube docuseries, Demi Lovato revealed just how serious her 2018 overdose was
Demi Lovato has truly been to hell and back. And when her new four-part docuseries, Dancing With the Devil, hits YouTube, it looks like we're all going to get an incredibly intimate look into some of the singer's darkest days.
The first trailer just dropped for the series, and from what Lovato says in its opening scenes, it's becoming clear she isn't going to hold anything back.
"I've had so much to say over the last two years, wanting to set the record straight about what it was that happened," she tells the filmmakers. "FYI, I'm just going to say it all and if we don't want to use any of it we can take it out."
What comes next is nearly three full minutes of Lovato opening up about her near-fatal overdose in 2018, interspersed with cuts of her friends and family being shocked that the filmmakers are going so deep into that horrible event. It becomes clear that not only will Dancing With the Devil cover the aftermath of that day in 2018 — the filmmakers were there for the months leading up to it, when Lovato relapsed, and they caught everything on camera. YouTube says the documentary will be "an intimate portrait of addiction."
But Lovato also reveals for the first time just how close she came to death.
"I had three strokes. I had a heart attack. My doctors said that I had five to 10 more minutes," she said in the trailer.
"There has been so much that I've wanted to say, but knew I had to say it right," she wrote on Instagram in a post sharing news of the upcoming documentary detailing what she's been through. "Thank you to my family, friends, and fans for staying by my side over the years as I learn and grow. I'm so excited to finally share this story with you that I've held on to for the last 2 years."
In a press call on Wednesday, Lovato elaborated even more about the lasting health effects she's suffered in the three years since her overdose.
"I was left with brain damage, and I still deal with the effects of that today. I don't drive a car because there are blind spots in my vision. I also for a long time had a really hard time reading," she said. "I feel like they kind of are still there to remind me of what could happen if I ever get into a dark place again."
She continued, "I'm grateful for those reminders, but also I'm so grateful that I was someone who didn't have to do a lot of rehabbing. The rehabbing came on the emotional side and the therapeutic side, internally. I did a lot of work after that — just not physically."
Dancing With the Devil will premiere on YouTube on March 23.
This article was originally published on