A Biased Liberal Recaps The Final Night Of The Democratic National Convention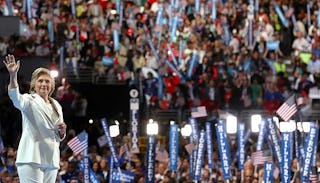 Image via Justin Sullivan/Getty Images
A (mostly true) account of the last night of the Democratic National Convention
Welcome to history, y'all!
So what does Hillary need to do in her speech tonight? Well, she needs let the people in and show them who she is, but she also needs to describe her plans and policies for the future of our country. She needs to talk about herself as a mother and grandmother but she can't focus too much on the fact that she's a woman.
She needs to show America her heart but also has to present herself as a tough commander-in-chief. She needs to try to have the impact of the previous speakers without trying too hard because that's not her strength. She needs to talk about Donald Trump but also focus more on her own positive qualities. She needs to take command of the room without being called, "shrill." And for God's sake she can't go on for too long while doing all of it.
Meanwhile, Trump could fart into a bag, mail it to America, laugh as it is released into our collective faces, and it still wouldn't affect his popularity.
Yup. That checks out. Good luck, H!
SPEAKERS
Tonight's theme is "ALL THE HISTORY." We had our first transgender person speak at a convention, and we had an openly gay congressman say to his husband from the stage, "Honey, I love you." Hiss. Tor. EE.
Then, we had Governor Andrew Cuomo:
HELLO, DEMOCRATS! IS THIS A GREAT CONVENTION OR WHAT?
AT STAKE IN THIS ELECTION IS THE VERY SOUL OF AMERICA! AM I YELLING? I CANNOT TELL IF I AM YELLING. FEAR IS A POWERFUL WEAPON. IT CAN EXCITE AND MOTIVATE, BUT IT HAS NEVER BUILT A HOME OR EDUCATED A CHILD. FEAR CAN, HOWEVER, GET OTHER PEOPLE TO BUILD THAT HOME FOR YOU AND SILENCE AN EDUCATION-WANTING CHILD. FORGIVE ME FOR MY VOLUME, I JUST CAME FROM A FIRING RANGE INSIDE A ROCK CONCERT INSIDE A GRENADE.
We had Governor John Hickenlooper, a person who will never be president solely because of his name. Also out of the running among U.S. Representatives are: Ted Yoho (FL), David Jolly (FL), Barry Loudermilk (GA), Steve King (IA), Joe Heck (NV), Louise Slaughter (NY), Marcia Fudge (OH), and Dave Brat (VA). Sorry, folks. There's your ceiling.
Next came a few Republicans for Clinton, who argued that instead of loyalty to party, we should focus on loyalty to the world still existing in three years. It's a solid argument.
Khizr Khan, father of a soldier who died serving the Army after 9/11 attacks:
"Donald Trump — have you even read the US Constitution? I will gladly lend you my copy. You have sacrificed nothing and no one."
[No words. Best moment of both conventions. PS — Hey, RNC. We got patriotism, too.]
General John Allen (ret. USMC) 4-star general, onstage with veterans:
"Our foreign relations cannot be reduced to a business transaction. Our armed forces will not be reduced to murder and torture."
[This man was in the military? Wow, his booming voice that makes me want to cry and do push-ups was not a tip-off at all. Also, RNC? We got veterans.]
Chelsea Clinton
Every day I spend as my kids' mother, I think about my mother. My hilarious, thoughtful mother. Every memory of my mom is that no matter what was going on in her life, she was always there for me. When my mom left town for work, she always left me notes with dates on them for every day she was gone. They were another reminder that I was always on her mind and in her heart. That feeling of being valued and loved is what my mom wants for every child. It's the calling of her life. My mother taught me that public service is about service. She never ever forgets who she's fighting for. I am so grateful to be her daughter. She makes me proud every single day. And Mom, Grandma would be so proud of you tonight.
[No, you're crying and you should stop it because you have no tissues and don't want to leave your sofa long enough to get any. That's you. I will wipe my face on my ribbed tank top which, it turns out, is less-than-ideal wiping material.]
Video: Hillary's life story, narrated by God himself, Morgan Freeman. I'm guessing James Earl Jones doesn't play small rooms anymore.
Hillary Clinton
[Psst, RNC. We got flags.]
Thank you to everyone. Bernie supporters — I've heard you. Your cause is our cause. Now, let me tell you a little story about the American Revolution.
OH MY GOD WHEN ARE YOU GOING TO HUMBLY ACCEPT OUR NOMINATION TO BE PRESIDENT OF THE UNITED STATES?
Donald Trump has taken the Republican Party from "morning in America" to "midnight in America." We are clear-eyed about what faces us, but we are not afraid. Don't believe anyone who says "I alone can fix it."
[Her enunciation is impeccable. This woman does not let a single "a" or "t" go unnoticed.]
It is with humility, determination, and boundless confidence in America's promise that I accept your nomination for President of the United States.
[H…I…S…T…O…RY…HISTORY…DANCE meep-moop meep mememe, mememoop mememe. WE MAKE HISTORY IF WE WANT TO, LEAVE REPUBLICANS BEHIND, BECAUSE TRUMP IS A BIGOT, DRINKS DARKNESS FROM A SPIGOT, AND HE AIN'T NO FRIEND OF MINE.]
My job titles tell you what I've done, but not why I've done it. In public service, the "service" part has always come easier to me than the "public" part.
[RNC — this is what self-awareness looks like.]
It's true that I sweat the details when we're talking policy, because it's not just a detail when it's your family or your kid. It's a big deal and it should be a big deal to your president too. Or, you know, they could just hire "the best people" to do "great things." That's also, technically, a plan. Like, I plan to travel back in time so I can cancel my ticket on the Titanic just to experience the rush of cheating death. How am I going to do that? Don't worry about it.
This is the first time a major party has nominated a woman for president. I'm happy for grandmothers, little girls, boys, and men, because when barriers fall in America is clears the way for everyone. After all, when there are no ceilings, the sky's the limit.
I believe in science. [Pssst, RNC. We also got science.] I believe that climate change is real. I believe that mass deportation is inhumane. I believe that the National Enquirer is a rag best used to wash windows and soak up gerbil urine. I believe that Antonin Scalia died of natural causes and that President Obama is not a Kenyon Muslim trying to take down our country from the inside. If you believe in all these things, then this is your campaign.
But Trump, he's a businessman! He must know something about the economy, right? Well, let's take a closer look. [Pours herself a cup of tea.] He says he wants to make America great again, well, he could start by making things in America again.
[Nailed it.]
Do you really think he has the temperament to be commander in chief? A man you can bait with a tweet is not a man you can trust with nuclear weapons. There is no other Donald Trump. This is it.
The world is watching, so let's be stronger together and look to the future with courage and confidence. When we do, America will be greater than ever.
MIC. DROP.
PICK THE MIC BACK UP. DROP-KICK IT TO THE BACK OF THE AUDITORIUM. HAVE BILL RUN BACK THERE AND GET IT FOR YOU. DROP IT ONE MORE TIME. STEP ON IT. WALK OFF.
[PS — We got balloons, too.]
This article was originally published on