Mom Hilariously Calls Out Parents Who Complain About School Supply Costs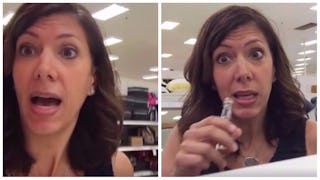 Image via Facebook
"It's the end of August. I will give you anything to take my kids."
Back-to-school season is synonymous with two things: taking your kids shopping for cool weather clothes they won't even be able to wear for another two months, and buying school supplies. Most parents loathe ticking off items on the supply list, because it's seemingly never-ending and everything costs money. Well, one mom is here to set the record straight about parents who complain about buying school supplies.
In a hilarious video, Dena Blizzard of One Funny Mother lets us all know why bitching about binders is wrong.
"Everybody's complaining about buying school supplies," she begins. "And my thing is, listen, it's the end of August. I will give you anything to take my kids."
Blizzard is seen filming herself cruising up and down the aisles of her local Mom Mecca (more commonly known as Target). She says she's more than willing to buy whatever item is on that supply list because let's face it — teachers have the hardest job of all: spending 9 hours a day with our kids.
"You need a yellow binder? I will get you a yellow binder, I'll get you a red binder, I will tie-dye some shit."
LOL.
"I'm telling you right now, if there was a teacher that said 'I need some Tide', I'll get you some Tide. You can put whatever you want on that list."
Teachers spend plenty of out-of-pocket, out-of-budget money on classroom supplies for their students to make sure every kid has everything they need. And they don't just do it one time, in August. They do it all throughout the year.
"These teachers have been making plans to teach your kids, and you're complaining about some pencils? Pencils! Are you kidding me? Do you know how much I would pay them just to get my kids out of my face."
Though the video is clearly meant to strike our funny bones, Blizzard brings up some seriously good points at the heart of it:
"I don't know anything about history. There's a lady somewhere willing to teach my daughter history? And she's asking for a yellow binder? I'm gonna get that bitch a yellow binder."
HA! This is possibly our favorite back-to-school video ever. The pièces de résistance is when Blizzard stops in one aisle and shows us what a hero she really is:
"These teachers gotta put up with your kids all year and you guys are all 'I don't wanna buy the pencils," she mimicks.
*Cracks open mini bottle of liquor*
"Buy the f-ing pencils!"
Amazing, isn't it?
A lot of parents are under the impression teachers (public school teachers in particular) receive everything they need supply-wise from their schools or school budgets. Yeah, no. That's not even remotely true for most teachers. There's probably not a teacher out there who hasn't spent their own money on classroom supplies throughout the year.
So what should parents who moan and groan about supply costs do? Blizzard ends her video by cutting right to the chase.
"Stop complaining, go out and get your stupid supplies, and you need to hug a teacher on the first day of school."